If an injury or illness prevents you from earning your regular income or returning to your job, contact Fusco, Brandenstein & Rada, P.C. right now. You might be entitled to benefits from your employer's workers' compensation insurer or Social Security disability. You could receive the payments you need to cover your medical treatment and part of your lost wages.
When you hire us, our team will take on the responsibility for handling your claim. You should take the time to focus entirely on treating your injury. You can count on us to pursue the benefits necessary to cover your medical expenses and lost income. We understand the burdens injured workers must deal with after an accident and want to make this process easy for you.
Fusco, Brandenstein & Rada, P.C. will fight for you. Whether you were injured at work or while off the clock, we will aggressively seek the maximum payments you need while you're earning less wages than usual. You will have a dedicated team in your corner advocating for your rights.
Call us at 516-496-0400, or contact us online today for a free consultation with one of our workers' compensation and Social Security disability attorneys in Bellmore, NY. We're available 24/7 and offer virtual consultations for your convenience.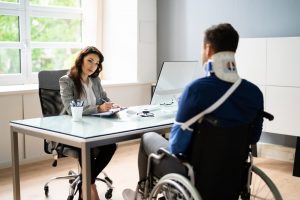 Determining Eligibility for Injured Workers
Anyone can sustain an injury or illness, causing physical or mental limitations. Various medical conditions can prevent someone from returning to their job or making the same wages they earned before the accident. If you face reduced earnings, you could struggle to pay for your medical care and other expenses.
Common types of accidents resulting in medical conditions that prevent employees from functioning at work include:
Fall from heights
Slip/trip and falls
Vehicle collisions
Electrocution
Construction accidents
Explosions and fires
Toxic chemical exposure
Equipment and machinery malfunctioning
Loud noises
You might qualify for benefits through workers' compensation or Social Security disability insurance if you suffered an illness or injury, such as:
Burns
Overexertion injury
Traumatic brain injury
Loss of limb
Crush injury
Dislocated joint
Electrical shock
Broken bones
Mesothelioma
Psychological injuries, such as depression or post-traumatic stress disorder (PTSD)
Cancer
Loss of vision or hearing
Asthma
Muscle strain
Workers' compensation benefits are available to employees injured on the job. Coverage is meant to pay for all reasonable medical costs and a percentage of lost wages.
However, some workers aren't eligible to collect benefit payments. Individuals exempt from the workers' compensation program include:
Police officers
Public school teachers
Uniformed sanitation workers
Firefighters
Although you might be an employee who doesn't qualify for workers' compensation benefits, you might be eligible to apply for another benefits program. Fusco, Brandenstein & Rada, P.C. can review the circumstances of your case and explore the available benefit options.
An injury or illness that doesn't happen while performing job-related duties and lasts longer than twelve months could qualify for benefits through Social Security disability. The Social Security Administration offers coverage to individuals unable to perform the tasks necessary for their occupation or to transfer to a different job. If you have pressing questions, contact us today.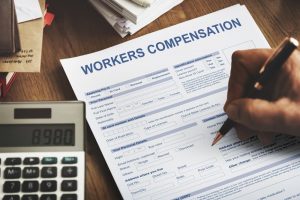 Why Hire Fusco, Brandenstein & Rada, P.C.?
Since 1978, Fusco, Brandenstein & Rada, P.C. has represented employees unable to return to work due to an injury or illness. Our workers' compensation and Social Security disability attorneys in Bellmore, NY, fight to protect the rights of sick and injured workers. We treat each client as a priority and provide personalized attention.
We know how complicated it can be to recover benefits from a workers' compensation insurer or the Social Security Administration. You won't have to pursue your claim alone. Our legal team will remain in your corner during each step of the process. You can count on us to help you navigate the complexities of your case and overcome any roadblocks we encounter.
Fusco, Brandenstein & Rada, P.C. has a proven track record of success. We work hard to earn each client's trust and reach favorable outcomes in every case we take. Our efforts have earned us awards and recognition from various organizations, including the Million Dollar Advocates Forum, Super Lawyers, and The National Trial Lawyers.
Steps to Take After a Workplace Accident
The actions you take following an injury or illness can impact your claim if you choose to pursue benefits. You should begin building your case immediately to protect your rights to the maximum coverage available.
Notify Your Employer
Report the accident to your employer right away. You should provide a written statement of what happened and keep a copy for yourself.
Complete a Claim Form
After you notify your employer of your injury, they should provide an application for benefits. Complete it promptly to submit to the insurance company.
Review Available Coverage
Request a copy of the policy. You should understand the benefits you're entitled to following a job-related injury or illness.
Obtain Witness Contact Information
If any witnesses saw the accident, ask what they recall. They might provide valuable details regarding the events leading up to the incident. Write down their names and phone numbers, so they can provide statements to the insurance company. They might also be able to testify in court if your case goes to trial.
Seek Medical Care
Go to a hospital or a physician authorized by the Workers' Compensation Board. You should begin treatment for your injury as soon as you leave the scene of the accident. If the initial doctor refers you for follow-up care, do as they order.
Maintain All Records
You should maintain copies of every document you receive during your ongoing claim. Keep medical records, invoices, written correspondence with your employer, medical bills, and documentation from the insurance company.
Hire an Attorney
You could benefit from seeking legal representation following an injury or illness. Pursuing Social Security disability and workers' compensation benefits can be challenging. Whether you were hurt on the job or off the clock, you need someone with experience to guide you through the process of pursuing all the benefits to which you're entitled.
Contact Us
Fusco, Brandenstein & Rada, P.C. has fought for clients in their workers' compensation and Social Security disability claims for over four decades. We believe that injured and disabled employees deserve the maximum benefits possible. We will tirelessly work to meet your needs and try to reach your desired outcome.
If you suffered an injury or illness that prevents you from earning your usual wages, call Fusco, Brandenstein & Rada, P.C. today at 516-496-0400, or reach out to us online for a free consultation. You can discuss your case with one of our Bellmore workers' compensation and Social Security disability attorneys and learn about your available legal options.