Smithtown Workers' Compensation and Disability Lawyers
It is unfortunate that workplace accidents sometimes happen. If you were injured in a work-related accident, you doubtless have questions. Work-related injuries and illnesses can be financially debilitating. You may be unable to return to work and yet still have to pay your medical bills and provide for your family. It is important to know that you have rights and there are remedies under New York law.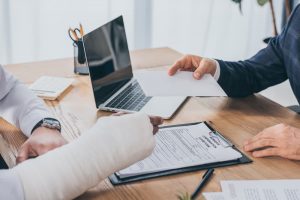 Two of the options that can help you meet your bills and other obligations are workers' compensation benefits and disability benefits. At Fusco, Brandenstein & Rada, P.C., our Smithtown attorneys understand the complexities of the law and work aggressively to protect your rights. Whether you are eligible for workers' compensation, veterans' benefits, Social Security Disability, or have an injury claim due to someone else's negligence, we can help.
Our experienced Smithtown injury and disability attorneys can help you recover fair compensation under the law. Our firm has more than 40 years of experience in the field. We have a dedicated staff of lawyers and professionals who work tirelessly to achieve maximum compensation on behalf of our clients.
Do not let an unexpected work-related accident or other injury destroy everything you've built for yourself and your family. During your free consultation, we'll explain your rights and advise you on the next best step forward. You have a unique situation, and we provide our clients with individualized attention. Call Fusco, Brandenstein & Rada, P.C. now at 516-496-0400. We can also be reached through our online contact form.
Do I Need a Smithtown Workers' Compensation or Social Security Disability Lawyer?
Accidents can be overwhelming and traumatic. They often have a trickle-down effect on your employment and your family. A disabling accident can leave you with questions about your livelihood and your future.
To ensure you receive the maximum compensation available to you under the law, it is imperative you hire experienced lawyers. The legal team at Fusco, Brandenstein & Rada, P.C. has the resources and knowledge to protect your rights and support you through the claims process.
Disability benefits are available to city and state police officers, union workers, veterans, and other employees whose employer must carry workers' compensation coverage. You may also qualify for Social Security disability benefits as a result of your injury. However, the claims process is not straightforward. It requires you to fill out the proper paperwork, meet the appropriate deadlines and gather the correct information.
When you hire Fusco, Brandenstein & Rada, P.C., we'll work to do all this for you. Our services can include:
Getting all your medical records
Obtaining the correct employment and financial records
Counseling you on recording your medical information and steering clear of social media
Helping you to get examined by a medical specialist
Hiring expert witnesses and getting accident reconstruction done as appropriate
Once your attorney has all the pertinent information, they can appropriately present your claim or negotiate a fair settlement. It is crucial to use an attorney to represent your interests because an experienced Smithtown disability lawyer from Fusco, Brandenstein & Rada, P.C. not only understands the true value of your claim, but we have the resources and the experience to aggressively represent and protect your rights. For example, we can help determine whether your employer has violated workers' compensation laws that govern employers in New York.
Unfortunately, claiming benefits is a complicated process. The Smithtown disability and injury attorneys of Fusco, Brandenstein & Rada, P.C. handle all the legal paperwork while you focus on healing and recovery. Your attorney can prepare the relevant paperwork and submit the claim with the required proof and documentation. If claims are denied, our legal team will support you through the appeals process and will be present for any questioning under oath regarding your claim.
Most importantly, your Fusco, Brandenstein & Rada, P.C. attorney recognizes that your story is unique to you. We'll become familiar with your case, and that will improve your chances of a successful claims process.
The legal team at Fusco, Brandenstein & Rada, P.C. is a full-service disability and workers' compensation law firm. We have represented injured workers for over 40 years. Each of our clients is treated with the same respect, passion, and compassion as if we were fighting for our own family. That's because our clients become like family to us.
It's important to hire the right attorney to raise your potential for success. There are many factors to consider when choosing your attorney, including:
Client satisfaction
Experience in the area of the law
Your comfort level with the lawyer
Their positive track record
The firms' resources that are available to you
Years of experience
Positive testimonials
Communication with you
Willingness to answer questions
Legal costs
We offer free consultations to discuss your case. This gives you the opportunity to evaluate the attorney you'll be working with. We'll advise you on the next steps in your case and assess how much your case is worth. All attorney's fees for workers' compensation cases are set by the court. We are only paid by the insurance company when we win.
Types of Disability and Injury Claims Our Legal Team Expertly Handles
In Smithtown, New York, our legal team handles workers' compensation and Social Security disability claims. We also handle the following legal matters:
New York City disability pensions
New York State disability pensions
Long-term disability pensions
Group long-term pensions
Private long-term pensions
Union disability pensions
Police disability
Negligence/accident claims
Legal service plans
General legal practice
Veterans' benefits
Many types of injuries and illnesses may lead to a workers' compensation or disability claim. These can include:
Traumatic brain injuries
Torn ligaments and tendons
Lacerations, abrasions, and puncture wounds
Broken bones
Nerve damage
Carpal tunnel syndrome
Respiratory injuries
If you were injured in a work-related accident or by another party, do not wait to learn your legal rights. Under New York law, there are statutes of limitations that dictate when you must file a claim to be eligible for compensation. For example, you must notify your employer within 30 days of a work-related injury that may lead to a worker's compensation claim. If the claim is not filed within 30 days, you may not receive any benefits.
You deserve compensation to offset your medical costs and lost wages due to your work-related injury or disability. Call Fusco, Brandenstein & Rada, P.C. today at 516-496-0400 for your free consultation. We'll discuss your case and give you the next best steps. Our legal team is committed to helping our clients get fair compensation for their injuries.