If you suffered an on-the-job burn injury, contact Fusco, Brandenstein & Rada, P.C. to discuss your options for compensation. You might be entitled to benefits through your employer's workers' compensation insurer. We could help you file a claim, submit the necessary evidence, and recover the maximum payments you deserve.
A job-related burn injury can disrupt your life. You suddenly face a painful recovery and can't return to work or earn your regular income. It creates various challenges and could lead to debt if you don't have the money to afford your medical bills and other expenses.
You shouldn't be forced to face financial burdens while treating your work-related burns. Your employer's insurance company should provide the benefits you need to afford your medical care and replace a portion of your lost income.
At Fusco, Brandenstein & Rada, P.C., our New York workers' compensation lawyers understand the uphill battle ahead of you. Workers' compensation claims can be complicated to handle. You shouldn't do it alone. When you hire us, we will take over the responsibility for your claim so you can focus on your treatment. You can depend on our legal team to advocate for your rights and fight for the benefits you deserve.
For a free consultation, call Fusco, Brandenstein & Rada, P.C. at 516-496-0400 today.
Types of Burn Injuries
A burn injury causes damage to a person's skin during contact with radiation, sunlight, heat, or another source. Different classifications indicate the severity of the injury and whether the damage extends below the skin.
The four classifications of burns include:
First-degree burn – A first-degree burn is the least severe of all types. You might experience some pain at the injury site and notice inflammation, redness, or swelling. The skin could peel as it heals but won't leave scars.
Second-degree burn – A second-degree burn damages the skin's outer layer and the layer underneath. The site of the injury can appear red and swollen. Blisters might also form and leave scars or scabs when the burn heals. A change in the pigmentation of the skin is also common.
Third-degree burn – Third-degree burns damage all layers of the skin and some nerves. People suffering from this level of burn injury often don't feel any pain. That's because the nerves become severely damaged and block the pain receptors. Skin grafting or surgery is necessary to repair the damage.
Fourth-degree burn – A fourth-degree burn is the most severe burn injury. The damage extends from the skin to the nerves, muscles, tissue, and tendons. Permanent disfigurement and scarring are common with fourth-degree burns.
Whether your burn is minor or severe, you should seek immediate medical care and contact Fusco, Brandenstein & Rada, P.C.. We can review the circumstances of your workplace accident and determine whether you're eligible for workers' compensation benefits for your burn injury.
Benefits Available for a Burn Injury
Benefits for medical care and lost wages are available for individuals hurt on the job.
Lost Wages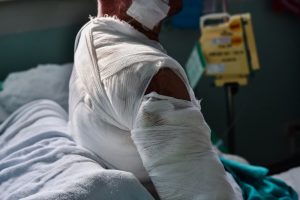 You can receive benefit payments for lost wages if at least one of these factors applies to your burn injury:
You earn less income because you're performing other work or working fewer hours
The injury prevents you from working for more than seven consecutive days
You should receive your first payment within ten days after your employer learned about your injury or within eighteen days of the workplace accident. Lost wage benefits aren't available for the first seven days unless the effects of your injury last more than fourteen days.
The amount of money you receive depends on these factors:
Degree of your disabling condition
Average weekly wage earned the previous year
The formula used to determine the payment is two-thirds multiplied by your average weekly wage multiplied by your percentage of disability. For example, if you made $400 a week and your doctor gave you a 100 percent disability rating, you would receive $266.67 each week.
Medical Care
Injured workers are automatically entitled to medical care if the injury happened while they were performing job-related duties. Medical care can cover expenses related to:
Dental
Medical
Optometry
Assistive devices
Surgical
Medically necessary drugs
You must seek medical treatment from a healthcare professional authorized by the Workers' Compensation Board to be eligible for coverage. If you choose a doctor not approved by the board, you could end up paying for your appointments out of pocket.
Steps to Take After Suffering a Burn Injury at Work
If you sustain a burn injury while performing your job-related responsibilities, you should take immediate action. Follow the steps below to protect your rights to workers' compensation benefits.
Report the injury – Notify your employer of your burns within 30 days of the accident. You should put this in writing, so there's evidence that you reported what happened.
Complete the application for benefits – Fill out Form C-3. You can obtain this form from your employer or their insurer. You must file it with the Workers' Compensation Board within two years from the accident date.
Seek treatment – Make an appointment with an authorized medical provider. It's critical to continue treating with all of your doctors until they release you from their care.
Hire a lawyer – Hire a New York burn injury lawyer from Fusco, Brandenstein & Rada, P.C.. We can work on your claim while you focus on attending your doctor's appointments.
Maintain records – Keep copies of every document associated with the accident and your job-related burn injury.
Most people don't understand the process of applying for workers' compensation benefits. You should never attempt to file your claim alone. Fusco, Brandenstein & Rada, P.C. can handle everything for you, so you're not burdened by the responsibility.
Contact Us
Fusco, Brandenstein & Rada, P.C. is ready to help you pursue the workers' compensation benefits available for your burn injury. We can provide the guidance and support you need to get through this challenging time in your life. You will have a dedicated and experienced legal team by your side until the end.
If you suffered burns in a workplace accident, do not hesitate to contact Fusco, Brandenstein & Rada, P.C.. One of our New York burn injury lawyers can discuss your case during a free consultation to determine whether you're eligible for workers' compensation benefits. Whether you need to file an initial claim or appeal a denied claim, you can count on us to work hard to reach your desired result. Call 516-496-0400 right now and let us help you get on the road to recovery.