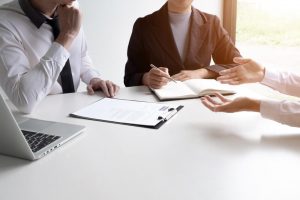 If you have been injured or disabled because of a workplace accident or disabled due to a non-work injury or illness, you may be worried about affording medical treatment and rehabilitation, as well as paying for other everyday expenses. Turn to the Hicksville workers' compensation/SSD attorneys of Fusco, Brandenstein & Rada, P.C. for help getting financial compensation. We will work tirelessly on your behalf to ensure that you get the maximum benefits available to you under the law. Give us a call at 516-496-0400 for a free initial case review to learn more about your legal options for getting the financial benefits you need for a work-related injury or a disability that prevents you from working.
Why Choose Fusco, Brandenstein & Rada, P.C. for Your Workers' Compensation or SSD Claim?
If you are having trouble getting a workers' compensation or SSD benefits claim approved, you need experienced legal representatives who will vigorously advocate for your rights to financial compensation. Choose Fusco, Brandenstein & Rada, P.C. for help with your claim. Our firm has more than 40 years of experience representing the interests of workers who suffer from work injuries and occupational diseases or who have been disabled due to their job. We've been representing people who have developed disabling conditions from illnesses or who've been injured in a way that prevents them from returning to work for just as long. We will fight for your rights with the same passion that you have for your case. When you choose us for your case, you become part of our family. You can expect that we will leave no stone unturned in pursuing your claims with your employer, insurers, and before state and federal agencies. Our attorneys will be by your side at each step of your case, so that you never feel like you have to pursue the benefits you're owed alone.
Common Workplace Accidents that Lead to Workers' Comp and SSD Claims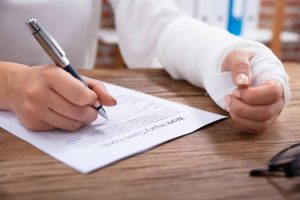 Examples of workplace accidents that can cause worker injuries and disabilities that give rise to workers' comp claims include:
Heavy machinery and equipment accidents
Slip/trip and falls or falls from heights
Falling object accidents
Electrocution
Fires and explosions
Toxic exposure
Motor vehicle and motorized equipment accidents
When you become disabled from working but weren't injured at work, you could pursue SSD benefits. The Social Security Administration has compiled a list of impairments that may be eligible for SSD benefits.
Frequent Workers Injuries in Hicksville
At Fusco, Brandenstein & Rada, P.C., we help injured workers get worker's compensation benefits for work-related injuries, such as:
Broken bones
Muscle strains
Dislocated joints
Ligament and tendon tears
Overexertion injuries
Herniated discs
Traumatic brain injuries
Crush injuries
Vision or hearing loss
Burns
Electrocution injuries
Amputation
Mesothelioma
Cancer
Psychological injuries, including PTSD
What Benefits Can You Obtain from Workers' Compensation?
Under the New York workers' compensation system, you may be entitled to receive financial benefits from your employer. These benefits may include:
Medical coverage, which pays for all reasonable and necessary medical treatment and rehabilitation expenses, with no copays or deductibles
Partial wage replacement if you miss time from work, equal to two-thirds of your average weekly wage
Replacement for lost earnings if you have reduced income due to your work-related injury
Permanent disability awards, which provide financial payments based on the type and severity of permanent disability or impairment that you have suffered
Vocational rehabilitation services to help you get into another job that you can perform within your physical limitations
Death benefits, which provide surviving family members of a worker killed on the job with financial contribution towards funeral/burial expenses, plus a lump-sum cash award
When Can You Apply for SSD Benefits?
If you have been indefinitely or permanently impaired or disabled from returning to work, you might also be entitled to apply for benefits from the Social Security Administration. Eligibility requirements for SSD benefits include:
The worker must be suffering from an injury or illness that causes a disability
The disability has lasted or is expected to last for at least 12 months or is expected to result in death
The worker cannot complete the job duties of any prior work they have done
The worker cannot perform any other type of job that exists in substantial numbers in the economy, due to their disability and limitations of education and/or training
What to Do After Being Injured at Work
Steps to take to preserve your eligibility for workers' compensation benefits for a work-related injury include:
Notify your employer of your workplace injury, ideally in writing
Document the scene of the workplace accident by taking photos or video, as well as by speaking with eyewitnesses to the accident
Seek medical treatment as soon as possible, and follow your provider's instructions and treatment recommendations
Keep copies of any documents relevant to your workers' comp claim, including medical records, bills/invoices/receipts, and correspondence with your employer and its workers' compensation insurer
Speak to a workers' compensation and disability attorney from Fusco, Brandenstein & Rada, P.C. to learn more about your rights to financial benefits from the workers' comp system or from Social Security disability
Frequently Asked Questions
Common questions that our clients have about workers' comp and SSD benefits include:
Can I be fired for filing for workers' comp?
While a worker may be fired from at-will employment for any lawful reasons or from contract employment under the terms of their contract, New York law prohibits terminating an employee in retaliation for their having filed for workers' compensation benefits. If you believe you were fired because you sought workers' compensation benefits, our firm will advocate for your rights and work to hold your former employer accountable.
Can I get benefits for the pain and suffering I experience from a work-related injury?
Workers' compensation benefits cover medical treatment expenses and partial wage replacement. There is no compensation for "pain and suffering," although you might receive monetary awards if you suffer permanent disability due to a work-related injury.
Are settlements available in workers' compensation cases?
If your work injury or occupational illness results in a permanent disability or impairment, you may benefit from pursuing a settlement of your workers' compensation claim to get the financial resources you need now, rather than waiting for them to be paid out over time under the workers' compensation system.
What are the time limits for filing a workers' comp claim?
In New York, a formal workers' compensation claim must be filed with the state commission within two years of the date that your workplace injury occurred, or two years from the date that you were last paid workers' comp benefits. If you try to file a claim after this two-year period has expired, your claim will likely be dismissed.
Contact Fusco, Brandenstein & Rada, P.C. for a Free Consultation to Learn More about Your Rights
After you have been hurt in a workplace accident, do not wait to speak with a workers' compensation attorney about your rights to benefits. If you have become disabled due to a non-work accident or illness that prevents you from working, you need an experienced lawyer who knows the ins and outs of obtaining SSD benefits. Call Fusco, Brandenstein & Rada, P.C. today at 516-496-0400 for a free, no-obligation consultation to discuss what our Hicksville workers' comp and SSD lawyers can do to make sure you get the money you deserve.