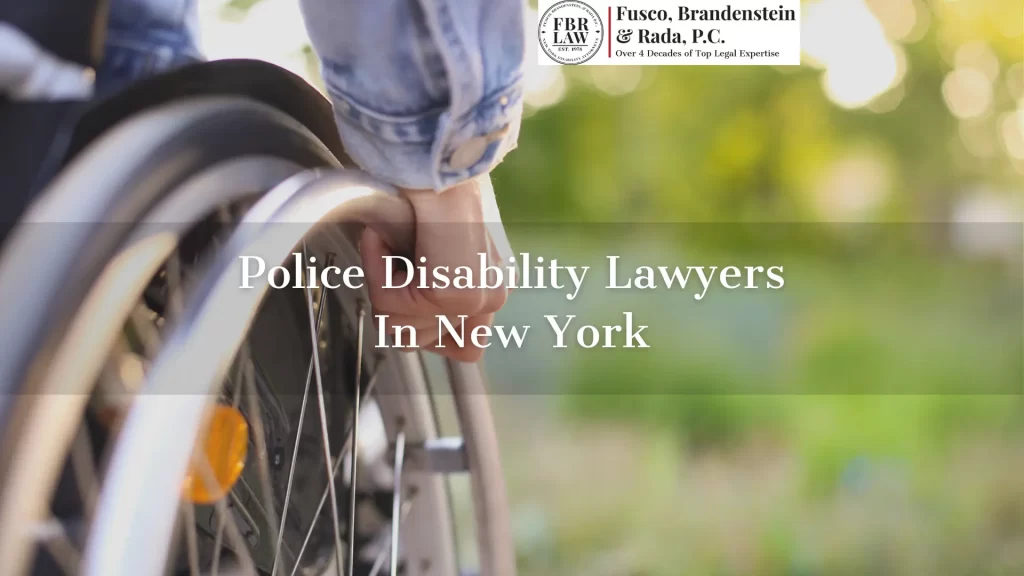 As a police officer, you face dangerous situations and, unfortunately, the risk of injury every day. When you suffer a significant line of duty injury that causes incapacitation "for the performance of [full] duty," there are things you must do to protect precious rights for yourself and your family, including seeking assistance from an experienced police disability lawyer in New York.
You must submit an accident report to your Department at the very outset. Even in these early stages, it's vital to invest the time in providing an accurate injury description. This accident report will become the relied-upon description of your accident. That's because it is the report most contemporaneous to your accident.
The next step will be to file a timely workers' compensation claim, which, among other things, will also require you to describe how you were injured. The description of your accident on your workers' compensation claim form, known as Form C-3, should be the same as that on the report to your Department. However, under NYS General Municipal Law Section 207-c, you will receive your regular wages until your disability ends.
How Disability Pensions are Determined
Of course, some injuries are more severe than others. Certain injuries may be so severe that they permanently disable you from fulfilling the duties of a police officer. Should this happen to you, you could claim a tax-free disability pension equal to 75 percent of your final average salary or 50 percent of your final average salary, also tax-free.
How you were injured is the decisive factor determining your eligibility for either disability pension. The 75 percent accidental disability pension requires that a member be "physically or mentally incapacitated for performance of duty as the natural and proximate result of an "accident." In this context, an "accident" matches the NYS Policemen's and Firemen's Retirement System's definition of an accident.
The law governing the NYS Policemen's and Firemen's Retirement System is the NYS Retirement and Social Security Law. This law surprisingly does not define "accident." Instead, the definition of "accident" is from numerous NYS Appellate Division cases.
Over the years, the State has increasingly challenged police officers in proving accidents have happened. As such, the initial accident report and its accuracy can be crucial to determining which disability pension is available.
The other line of duty disability pension available to disabled police officers who are members of NYSPFRS is "Retirement for disability incurred in performance of duty." This pays a disabled police officer 50 percent of their final average salary. The requirements for this pension are identical to those for an accidental disability retirement pension. But the performance of duty pension does not require an "accident," only that a police officer has a service-related disability.
Receiving a 75 percent accidental disability pension or a 50 percent Performance of Duty pension has many other requirements. There are notice requirements, filing deadlines, and the need to provide sufficient and relevant medical evidence to meet the "incapacitation" standard. An experienced police disability lawyer can guide you through the process and advocate for the disability pension you deserve.
Another provision exists for achieving a 75 percent disability pension for a police officer who has become "incapacitated as the result of a qualifying World Trade Center condition…" and applies "at any time."
In a claim for a 75 percent World Trade Center disability pension, there is no requirement that an "accident" is the cause of the injury. The presumption is that the disability "resulted from performing duty and was a direct outcome of an accident." However, there are many nuances to establishing entitlement to World Trade Center Accidental Disability. So, the services of an attorney practicing in this area will significantly assist in the long run.
Contact Fusco, Brandenstein & Rada, P.C.
These are not easy benefits to receive, and the Retirement System certainly is not generous in awarding them. Hence, applicants should always consider seeking experienced legal counsel in this field of law. They can guide you toward the best decision for your future and your family.
The New York police disability lawyers with Fusco, Brandenstein & Rada, P.C. can help you through your application and demand a favorable resolution for your claim. Call our team at 516-496-0400 or contact us online to speak with a lawyer today.
Related Reading: