If you can't return to your job or earn your usual wages due to an injury or medical condition, do not hesitate to contact Fusco, Brandenstein & Rada, P.C.. We can review the details of your case to determine whether you're entitled to benefits through your employer's workers' compensation insurance. The benefits you receive could cover your medical treatment, lost wages, and additional losses suffered from the accident. If you aren't eligible for workers' compensation benefits, but you cannot work, we can help you apply for Social Security Disability Insurance (SSDI) benefits.
Our legal team will take over every legal aspect of your case. You should spend time focusing on your recovery so you can get your life back on track. We will work hard to seek the benefits you need to compensate for your costs while treating your injury. We know the struggles workers often face when they can't perform their regular work-related duties. It can significantly reduce their earnings and affect their livelihood.
Fusco, Brandenstein & Rada, P.C. has a team of dedicated workers' compensation and Social Security disability lawyers in Holtsville, NY. Whether you sustained an injury outside of work or on the job, you can count on us to seek the maximum compensation you deserve. We will be your advocate during this challenging experience and fight to protect your rights.
Since 1978, Fusco, Brandenstein & Rada, P.C. has represented injured and sick workers. We provide legal guidance and support to help our clients navigate the complicated process of applying for workers' compensation and SSDI benefits. You will receive personalized attention from start to finish of your case.
For a free consultation with one of our Holtsville workers' compensation and Social Security disability lawyers, call us today at 516-496-0400.
Accidents and Medical Conditions that Qualify for Benefits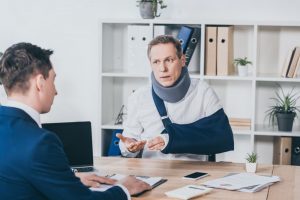 It doesn't matter what job industry you're in. You could suffer an injury or illness in any situation. Any condition that limits your physical or mental abilities can prevent you from making the money you need to afford your medical bills and daily living expenses.
On-the-job accidents that can cause a condition that qualifies for benefits include:
Loud noises
Electrocution
Fall from heights
Exposure to toxic substances
Fires and explosions
Vehicle collisions
Malfunctioning machinery and equipment
Construction accidents
Slip/trip and falls
You might be entitled to Social Security disability or workers' compensation coverage if you suffered any of the conditions below:
Overexertion injury
Crush injuries
Strained muscle
Broken bones
Loss of limb
Cancer
Burns
Dislocated joint
Asthma
Vision or hearing loss
Electrical shock
Mesothelioma
Traumatic brain injury
Psychological damage, such as post-traumatic stress disorder (PTSD), anxiety, or depression
If you were injured at work, you could file a claim for workers' compensation benefits through your employer's insurer. The benefits you receive can replace part of your lost income and cover reasonable medical expenses.
However, certain New York employees don't qualify for workers' compensation benefits, such as:
Public school teachers
Firefighters
Police officers
Uniformed sanitation workers
If you're ineligible for benefits through your employer, you could pursue coverage through another program. A workers' compensation and Social Security disability lawyer in Holtsville from Fusco, Brandenstein & Rada, P.C. can determine the program you qualify for and file a claim on your behalf.
You could receive Social Security disability benefits for a non-work-related illness or injury lasting longer than twelve consecutive months. This federal program provides various benefits to workers who can't complete basic tasks required for their job or to maintain employment elsewhere.
What You Should Do After Sustaining an Injury or Illness
You need to follow the steps below if you want to pursue workers' compensation or Social Security disability benefits.
Report Your Injury
You must inform your employer of the accident and your injury. Put everything in writing, so you have documentation of the report.
Submit an Application
Your employer should give you an application for benefits. Complete it as soon as possible and return it to your employer to begin the claims process.
Request the Policy
Ask your employer or their insurance company for a copy of the policy. You should review the available coverage, so you know which benefits you're entitled to.
Go to a Doctor
You should visit your doctor or go to the hospital immediately after you leave the scene of the accident. Even if your injury is minor, you should let a physician examine you to determine the treatment you need to heal. If you don't receive ongoing treatment for your injury, you could ruin your chance of recovering the benefits you deserve.
Talk to Eyewitnesses
If anyone saw the accident and what might have caused it, speak with them. Get their names and phone numbers so you can contact them later if necessary. They could provide a statement to the insurance company or testify in court if your case goes to trial.
Maintain Documentation
Keep a copy of the documents related to your case. You should maintain your medical records, so you have evidence of your injury and the treatment you sought after the accident.
Hire an Attorney
Call Fusco, Brandenstein & Rada, P.C. to retain our legal services immediately after the accident. Workers' compensation and Social Security disability cases can be complicated to handle alone. You should let us take over the process and complete every step on your behalf.
Why Choose Fusco, Brandenstein & Rada, P.C.?
At Fusco, Brandenstein & Rada, P.C., we have fought for the rights of injured workers in Holtsville for more than 40 years. We always dedicate our time and resources to each client who hires us. We know how to build a successful case and do whatever it takes to get the job done. You will be in trustworthy and capable hands with us by your side.
We have ten offices in convenient locations throughout New York. We can serve clients in:
We have maintained a stellar reputation in New York City since opening our firm. We pride ourselves on the favorable results we have achieved and the hard work we put into each case we take. Multiple organizations recognized us for the legal services we provide, including The National Trial Lawyers, the Million Dollar Advocates Forum, and Super Lawyers.
Speak to an Experienced Workers' Compensation and Social Security Disability Lawyer in Holtsville
If you suffered a disabling injury at work or off the job, call Fusco, Brandenstein & Rada, P.C. right now. One of our Holtsville workers' compensation and Social Security disability lawyers can review the circumstances of your case and advise you about your available legal options.
We're available 24/7 to speak with you. You can reach us at a time most convenient for you. Call now at 516-496-0400 for your free consultation.