Stony Brook Workers' Compensation and Social Security Disability Attorneys
If you can't return to work or your income has suffered due to an on-the-job or off-duty injury or illness, contact Fusco, Brandenstein & Rada, P.C. today. We can review the circumstances of the incident to determine your available legal options. You might be entitled to compensation for your medical care, lost wages, and additional expenses.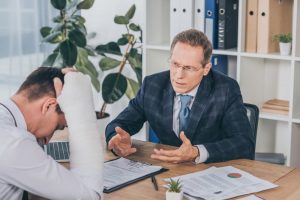 Our legal team can take on the responsibility for your case so you can focus on healing. You can depend on us to tirelessly work to secure the money you're owed to pay for your incurred costs. We understand the overwhelming burden of receiving bills you can't afford because you're not earning your usual wages. It can be a stressful and frustrating experience.
At Fusco, Brandenstein & Rada, P.C., we know state laws and legal procedures for pursuing workers' compensation and Social Security disability benefits. Whether you sustained an injury on or off the job, we will protect your rights and fight for the maximum payments you need to recover.
We have provided injured workers in Stony Brook, New York, with the legal representation and guidance they have needed for over 40 years. We put our skills and experience to work for every client to try to reach a positive result. You will receive the personalized attention you deserve so you can get the benefits you need to move forward with your life.
Call Fusco, Brandenstein & Rada, P.C. today at 516-496-0400 for your free consultation to learn more about our services and how one of our Stony Brook workers' compensation and Social Security disability attorneys can help.
Common Job-Related Accidents and Medical Conditions
Anyone can suffer an injury or illness that prevents them from making the money they need to survive. Whether you were at work or off the job at the time of the accident, you deserve benefits for your medical treatment and additional losses.
Accidents that can cause a severe injury or illness and affect a person's ability to perform work-related duties include:
Electric shock
Toxic chemical exposure
Malfunctioning equipment and machinery
Loud noises
Explosions and fires
Fall from heights
Slip/trip and falls
Construction accidents
Vehicle collisions
The injuries and illnesses often eligible for workers' compensation and Social Security disability coverage include:
Joint dislocation
Overexertion injury
Electrical shock
Broken bones
Traumatic brain injury
Asthma
Strained muscles
Hearing or vision loss
Psychological damage, such as depression or post-traumatic stress disorder
Crush injuries
Cancer
Loss of limb
If your injury happened in a workplace accident, you could qualify for workers' compensation benefits. These benefits pay for reasonable medical expenses and replace a portion of the income you lost due to the injury.
Unfortunately, specific employees aren't allowed to pursue workers' compensation benefits, including:
Firefighters
Uniformed sanitation workers
Public school teachers
Police offers
However, these individuals can seek coverage for their work-related injuries and illness through other compensation programs. Your workers' compensation attorney in Stony Brook can assist you with filing a claim through the appropriate program.
If you suffer a non-job-related injury or illness that lasts longer than twelve months, you might be eligible for benefits through Social Security disability. This federal program offers benefits to individuals unable to complete basic responsibilities of their jobs and perform work for another employer.
Steps to Take After an Injury or Illness
Whether you want to file a Social Security disability or workers' compensation claim, there are steps you should take to protect your rights so you can recover the maximum benefits possible.
Report the injury – First, you should report the injury to your employer. It would be beneficial to do this in writing and keep a copy for yourself, so there's evidence of the report. Your employer should provide you with an application to complete and return so they can begin the claims process with their workers' compensation insurer or the Social Security Administration.
Seek medical treatment – Go to the hospital immediately after leaving the accident scene. If you wait too long, you could end up with a denied claim. There needs to be evidence of your injury and the ongoing treatment required to heal.
Request the policy – Review a copy of your coverage information to understand the benefits you should receive.
Locate witnesses – If someone saw what happened, write down their name and contact information. They could provide a statement to back up your version of events.
Maintain records – Keep a copy of all documentation associated with your illness or injury. That can include doctor bills, hospital records, rehabilitation notes, and out-of-pocket expenses.
Hire a lawyer – Seek legal representation as soon as possible. Recovering from a severe medical condition can be a devastating experience, especially when it interferes with your ability to function at your job. Your workers' compensation and Social Security disability attorney in Stony Brook, NY, can handle the legal aspects of your case on your behalf.
Fusco, Brandenstein & Rada, P.C. has fought for our clients' rights for more than four decades. We know what it takes to get the job done. When you hire us, we will thoroughly review the facts of your case and create a legal strategy to pursue the benefits necessary to pay for your medical bills and daily living expenses.
We serve our clients at five conveniently located offices in New York and ten locations in total in the area, so you never have to travel far to see us. We have offices in:
Our team of Stony Brook workers' compensation and Social Security disability attorneys has maintained an excellent reputation for hard work and favorable case results. We received awards from prestigious organizations, such as Super Lawyers, the Million Dollar Advocates Forum, and The National Trial Lawyers Top 100 Trial Lawyers.
Fusco, Brandenstein & Rada, P.C. is ready to represent you in your Social Security disability or workers' compensation claim to recover the maximum available benefits. Your injury or illness shouldn't prevent you from taking care of yourself and your family while out of work or being unable to earn your usual income.
Our legal team will remain by your side throughout the process to provide the support you need to get through this challenging time in your life. With our 24/7 availability, you can reach us when you need us the most.
If you were injured while performing your work-related duties or in an accident off the job that resulted in disability, call Fusco, Brandenstein & Rada, P.C. at 516-496-0400 today. One of our Stony Brook workers' compensation and Social Security disability attorneys will meet with you to discuss the circumstances during a free consultation. Let us be your advocate and help you get the benefits you need.