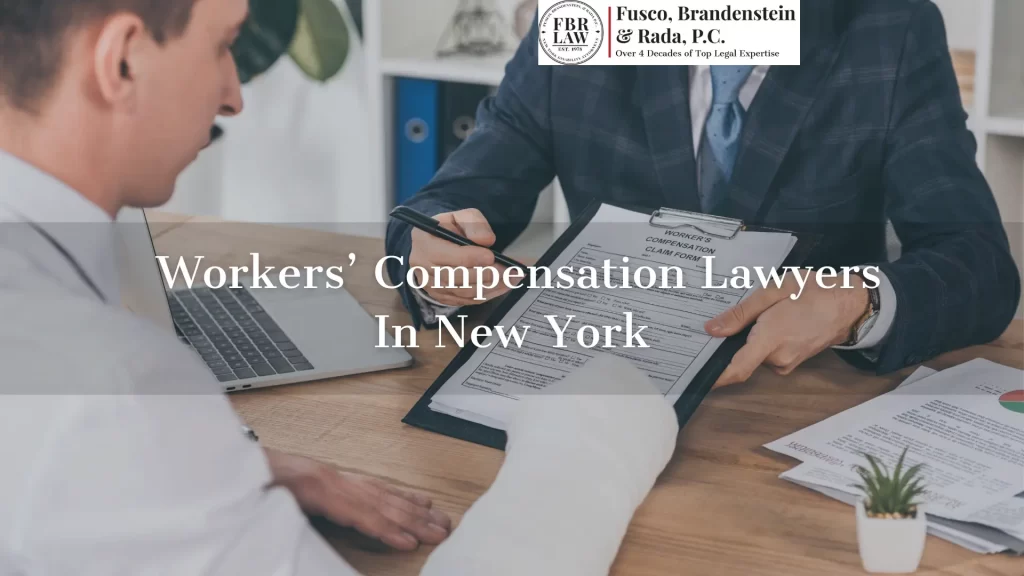 If you get hurt or sick on the job in New York, you might be eligible for benefits through workers' compensation. The workers' compensation lawyers from Fusco, Brandenstein & Rada, P.C. can help you file a claim and ensure you receive the payments you need to cover your medical care and lost wages. We'll work hard to protect your right to the maximum compensation available.
Our compassionate and experienced legal team cares about the clients that hire us. We'll listen to your needs and prioritize your case from start to finish. We can handle every legal aspect of the workers' compensation claims and appeals process. We know how to hold employers and insurers accountable for the injuries you've suffered.
You can depend on us to remain by your side and help you through this challenging time. Call us at 516-496-0400 today to speak with one of our workers' compensation lawyers in New York.
Occupations and Injuries Involved in Workers' Compensation Claims
Workers in some industries are more likely to sustain occupational injuries and fatalities. When someone gets hurt on the job, they must file a workers' comp claim for benefits. Among these occupations, the ones that are at greater risk of injuries include:
Construction workers
Miners
Electricians
Law enforcement and emergency services
Industrial workers
Healthcare professionals
Drivers
Manufacturing workers
Agriculture, fishing, forestry, and hunting
Although the industries above involve more dangerous conditions than other job types, accidents can happen anywhere. For instance, even if you work at a desk all day, you could still suffer injuries, such as carpal tunnel syndrome, which will require medical attention.
The most common injuries that qualify for workers' compensation benefits include:
Any of these injuries could result from an accident. For example, whether you get hurt from dangerous working conditions or suffer harm from toxic chemicals, you could need expensive treatment or develop a permanent disability. For example, some situations that could lead to injuries, illnesses, or fatalities at work include:
Slip/trip and fall
Repetitive tasks
Falling objects
Defective tools, equipment, and machinery
Overexertion injury
Toxic substance exposure
Fall from heights
Malfunctioning safety equipment
Explosions and fires
Vehicle collisions
Stuck between or under heavy machinery
Hazards on the job site
9/11 & Zadroga Claims
As a natural extension of our work with victims and responders of the September 11, 2001, World Trade Center attacks, our firm also handles compensation claims through the James Zadroga World Trade Center Victims' Compensation Act.
The Zadroga Act allows for victims, responders, volunteers, and other members of the public who were harmed and injured as a result of the attacks to claim compensation for their injuries regardless of whether they were part of the prior incarnations of the Victims' Compensation Fund or various class action lawsuits pertaining to the attacks.
Our skilled workers' compensation lawyers can evaluate your claims and injuries to determine whether you are covered under the Zadroga Act and then represent you before the Department of Justice to maximize your compensation.
How to Handle an Occupational Injury or Illness
If you suffer an injury or illness due to your working conditions, you might qualify for workers' compensation benefits through your employer's insurance coverage. New York laws require all businesses to provide employees with workers' comp insurance.
To begin the claims process, follow the steps below:
Step 1: Firstly, notify your employer of the accident within 30 days. It would be best to put it in writing so there's a record that you let them know about your workplace injury. Include the date and time of the incident, how it happened, and the harm you suffered as a result.
Step 2: Complete the application your employer provides. They will notify their insurer to begin the process. If they don't give you a form, you can visit the New York Workers' Compensation Board website to complete it yourself.
Step 3: Contact your employer's insurance representative and request a copy for your records. It will contain vital information, such as deadlines, qualifying medical conditions, and other details associated with your claim.
Step 4: Undergo an initial medical evaluation. The doctor will perform an examination to determine your diagnosis. They might refer you for additional treatment with other providers. Make sure you follow their orders and continue showing up for regularly scheduled appointments until all of your doctors release you from their care.
Step 5: Maintain records of everything related to your accident, injury, and workers' compensation claim. Evidence is crucial in any legal case and could help prove that you got hurt while performing work-related duties.
Step 6: Obtain a statement from your doctor to submit with your application. It should include details about how you sustained an injury or illness, what you were doing at the time of the incident, and why it prevented you from returning to work.
Step 7: Hire an experienced New York workers' compensation lawyer. If you choose not to seek legal representation, you'll likely end up with minimal benefits. An experienced attorney can ensure you receive the maximum payments you deserve.
How Do I Know If I'm Eligible for Workers' Compensation?
Workers eligible for coverage in New York include:
Anyone in a for-profit business, including family members, volunteers, and employees that are part-time, borrowed, or leased.
Public school teachers, with the exception of New York City employees and public school aides
Farmworkers
Municipality and county employees that perform hazardous work
Individuals who work for the State of New York, including volunteers
Employees of most nonprofit organizations
Domestic workers employed by one employer and performs job duties at least forty hours per week, such as a live-in maid or babysitter
Corporate officers within corporations that have more than two stockholders or officers
One or two-person corporation officers
Volunteer firefighters and ambulance workers qualify for some benefits under the Volunteer Firefighters' Benefit Law and Volunteer Ambulance Workers' Benefit Law
Workers' compensation laws don't cover the following people:
Anyone who volunteers for a nonprofit organization without receiving compensation. Compensation includes room and board, stipends, and other benefits of monetary value
People who teach for an educational, nonprofit religious, or charitable institution
Anyone performing non-manual tasks for a nonprofit religious, educational, or charitable institution
Those who receive charitable aide from a charitable or religious institution in exchange for performing work, but don't have an express contract for hire
Workers covered by other workers' compensation laws, such as railroad employees, maritime workers, and federal government employees
Media sales representatives that sign an independent contractor contract
Sole proprietors, partners, and one or two-person corporate officers with no additional employees who provide services necessary for the business
Adults and minors performing chores or yard work at one family's residence or the property of a noncommercial, nonprofit organization
Spouse and children under 18 years old of an employer who is a farmer but isn't under an express contract of hire
Nonprofit, supervised amateur athletic members that aren't employed by anyone participating in the athletic activity
Some employees of Native American Nations and foreign governments
Christian Science readers, sextons, religious order members, and duly ordained, licensed, or commissioned priests, ministers, and rabbis
New York City firefighters, police officers, and sanitation workers who have coverage under New York State General Municipal Law provisions
Real estate salespeople that are independent contractors signed with a broker
Insurance brokers and agents that sign contracts as independent contractors
Benefits Available to Injured Workers in New York
Anyone who gets hurt on the job ends up with damages. Damages are all the losses associated with an accident or injury. Concerning workers' compensation claims in New York, you could pursue two types of damages: medical treatment and income benefits.
Medical Benefits
Workers' compensation will typically provide coverage for all necessary costs associated with medical treatment. These expenses include:
Hospital and ER costs
Physical therapy, surgery, and other necessary treatment
Prescription medications
Home healthcare
Medical assistive devices
You can only see someone on the authorized healthcare provider list when you begin treatment. If you choose to see your own doctor without approval from the New York State Workers' Compensation Board, you'll have to pay for the appointment out of pocket.
If you don't like the initial physician you saw, you can notify your employer and submit a request to change doctors to the insurance company for approval. Your first appointment must have been within the first thirty days of your workplace accident. The new doctor must also be on the State's approved list.
Income Benefits
Income benefits provide replacement wages when a worker can't return to their job or can work at a limited functional capacity. Your eligibility for specific disability benefits will depend on the injury you sustained, how serious it is, and how long you can't work.
Temporary partial disability is for employees who:
Can't return to work at all due to the disabling injury or illness – The payments you will receive are two-thirds of your average weekly wages multiplied by your disability rating. The disability rating is a percentage that indicates the level of impairment or loss of bodily function. To calculate the amount of your benefit payments, multiply your disability rating by two-thirds of your weekly wages before the accident occurred. For example, if you earned $900 per week and your doctor provided you with a 50% disability rating, you would receive $300 payments.
Can return to work but unable to complete all job-related tasks – You would be eligible for payments at two-thirds of the difference between your average weekly wages before and after the accident.
Temporary total disability is for individuals who have a 100% disability rating but temporarily. The payments you would receive are two-thirds of your pre-injury average weekly wages. You're eligible for this coverage until you can return to your job.
Permanent partial disability benefit payments will depend on the body part affected.
Scheduled loss of use awards: New laws provide a schedule that determines the number of weeks an injured worker can collect benefits based on the body part they can no longer use. Your payments will be two-thirds of your average weekly wages before the accident, multiplied by the schedule associated with your injury. For example, if you have a 50% loss of use of your hands, you would receive payments for a maximum of 122 weeks.
Nonscheduled awards: This is for anyone who suffered permanent disability to their head, spine, organ, or another body part that isn't on the scheduled list. Payments are at two-thirds of the difference between your pre and post-injury average weekly wages. The maximum number of weeks you can collect payments depends on the percentage of your lost earning capacity. For instance, the nonscheduled awards list states that someone with a 95% lost wage capacity is eligible for up to 525 weeks.
Disfigurement: An additional payment of up to $20,000 is available for someone who suffered an injury that caused a severe and permanent disfigurement of the head, face, or neck.
Permanent total disability benefits are available when the injured worker's doctor places them at maximum medical improvement (MMI). MMI indicates that further medical intervention won't improve the patient's condition. They will thoroughly evaluate the injury or illness to determine the disability rating appropriate for permanent limitations resulting from the accident. Payments are at two-thirds of your average weekly wages and will last as long as you cannot maintain employment.
Additional benefits might be available under New York workers' compensation laws, such as:
Vocational rehabilitation: Services to help the disabled employee find a job that matches their abilities.
Death benefits: Available to surviving family members if the worker died from their work-related injury or illness. Payments are at two-thirds of the deceased's average weekly wages for the year before the fatal accident. Compensation for burial and funeral expenses might also be available.
Our New York workers' compensation lawyers can help walk you through all the benefits you may be eligible for.
Common Reasons for Denied Workers' Compensation Claims
When you apply for workers' compensation benefits, you must follow strict deadlines and procedures to receive coverage. The insurance company might deny your claim if you make a mistake or miss a deadline. Sometimes, the reason for a denied claim is that the insurance company didn't perform a thorough investigation or acted in bad faith.
The most common reasons for denials include the following:
Failure to notify employer: You must notify your employer immediately after an accident occurs on the job. If you don't or wait too long, you could ruin your eligibility to collect benefit payments.
Lack of medical evidence: When you seek medical treatment, your doctor should include in their notes the type of injury you sustained, how it happened, and why it prevents you from returning to work. If there isn't detailed information on your medical records, the insurance company won't believe you have a disabling condition.
Insurance bad faith: The insurance representative failed to perform an adequate investigation into the claim, unnecessarily delayed the process or issued a denial without reviewing all available evidence.
The gap in treatment: A gap in treatment refers to an injured worker who waits a while before seeking initial treatment or has a significant gap between each doctor's appointment. You must see a doctor within days after the accident and attend regularly scheduled appointments to maintain workers' comp eligibility.
Conflicting employer statements: The insurance company will ask your employer to provide a statement about the accident that caused your disability. If they deny that you got hurt at work or provide details that don't match your account, that could result in a denial.
Lack of witnesses: Eyewitness statements are crucial evidence in any insurance claim. It may not be easy to prove if no one was when the workplace accident happened.
Definition of disability: Every insurance policy has a definition that determines which injuries and illnesses qualify as a disability. If your employer's workers' compensation policy doesn't consider your medical condition a disability, you won't be eligible for benefits.
If you have been denied a workers' comp claim in New York, our NYC workers' compensation lawyers can walk you through the next step of the process, filing an appeal.
How to Appeal a Denied Claim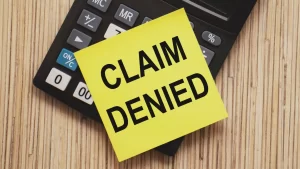 If you received a denial letter for your original workers' compensation claim, you could appeal the decision through the following process:
Hearing/trial: An administrative law judge will hear the reasons for an appeal and review evidence that shows you deserve benefits. They will either agree with the original decision to deny the claim or conclude you're eligible for insurance coverage.
Appeal administrative denial: If the administrative judge denies your request at the hearing, you'll have 30 days to file an appeal. You must submit the appeal in writing and submit it to the Workers' Compensation Board. A three-member panel will review your request and determine if they should uphold, modify, or rescind the administrative judge's decision
Appeal to state court: If the board continues to deny your request, you can file an appeal with the Appellate Division of the Supreme Court in New York.
Our attorneys have decades of experience handling workers comp appeals in New York. Contact us today to schedule a consultation to discuss your specific situation.
Contact an Experienced Workers' Compensation Lawyer In New York
At Fusco, Brandenstein & Rada, P.C., we understand the stress of pursuing workers' compensation benefits. When you're injured, and out of work, you face financial struggles while paying for medical treatment and other associated costs. You don't know how you will afford your daily living expenses and support your family. It's an overwhelming experience, and you can depend on us to help. When you hire us, we'll fight aggressively to protect your rights and ensure you receive the maximum benefits you deserve.
We have the experience, resources, and knowledge to file workers' comp claims and appeal denied claims. Our legal team will treat you and your case as a priority. You can depend on us to be there when you need us and provide support and guidance throughout the process.
If you have a disabling medical condition keeping you from your job, call one of our workers' compensation lawyers in New York at 516-496-0400 or contact us online to schedule a free consultation.
Workers' Compensation FAQs
If you recently got hurt at work and are applying for benefits, here's what you should know about workers' comp in New York.
Is Workers' Comp Taxable?
No. Workers' compensation benefits are not taxable at the federal or state levels in New York. So, if you receive workers' compensation benefits, you won't need to report them as income when you file your tax return.
However, if you're also receiving Social Security disability benefits, you might see a partial reduction in your benefit payments. The Social Security Administration (SSA) implements this reduction to prevent "double-dipping" from multiple benefits sources. But even with this potential reduction, the money you receive in workers' compensation benefits remains non-taxable.
Understanding these details is important, especially if you're receiving benefits from multiple sources. You should always consult an experienced lawyer if you have specific questions about your tax situation. They can provide clarity and guide you in the right direction.
When Should I Hire a Workers' Comp Lawyer?
It's best to hire a workers' comp lawyer immediately after experiencing a work-related injury or illness. Involving a trusted attorney early on in your claims process can be a game-changer.
From the beginning, your lawyer can handle every aspect of preparing and filing your claim accurately. This reduces the chances of any mistakes that might lead to denials. They can also ensure that all necessary paperwork gets submitted by the appropriate filing deadlines. This proactive approach can streamline the claims process and get you your benefits as soon as possible.
Another reason to hire a workers' comp lawyer right away is their experience in handling disputed claims. If your claim gets challenged, either by your employer or the insurance company, the situation can quickly become complex and overwhelming. They might argue that your injury isn't work-related or downplay its severity. A lawyer can gather and present essential evidence to substantiate your claim and demand the full benefits you are due.
Will Workers' Comp Offer Me a Settlement?
Workers' comp settlements are agreements in which an injured worker receives a lump sum or structured payments over time. In exchange, they give up the right to request additional benefits related to their work injury claim.
Whether you'll receive a workers' comp settlement offer depends on various factors. One key factor is the nature and severity of your injury. A settlement might be more likely if your injury results in a permanent disability or requires long-term medical treatment. This is because insurance companies sometimes prefer settlements so they can avoid the unpredictability of future medical expenses.
However, not all claims result in settlements. If the insurer has paid your medical bills and wage replacement benefits, and your injury has not resulted in a permanent impairment, you may not be entitled to a settlement. Moreover, just because you get a settlement offer doesn't mean it's in your best interest to accept. The offer might not adequately cover your future medical expenses or lost wages, so it's essential to consider it carefully. Once you accept a settlement offer, it's typically final. That means you can't seek additional compensation later if your condition worsens.
Before accepting or declining a settlement offer, it's wise to consult a workers' comp lawyer. They can advise you about whether the offer reflects the true value of your claim and negotiate better terms if necessary.
Related Reading: