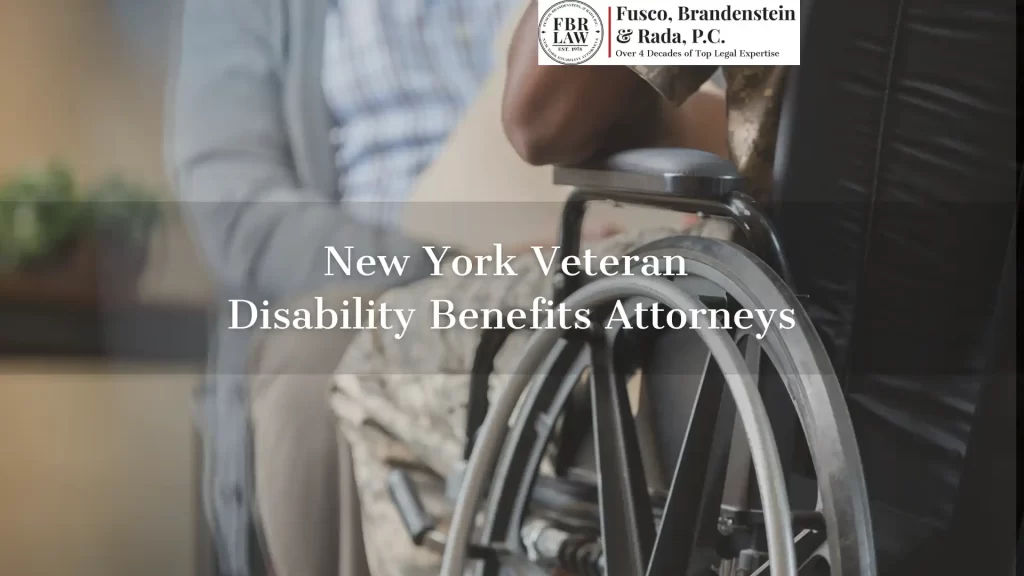 If you have questions about Veteran Disability benefits, claims or appeals, the attorneys at Fusco, Brandenstein & Rada, P.C. are here to help. Contact us today to schedule a free consultation with one of our New York disability benefits lawyers.
According to the U.S. Bureau of Labor Statistics, 4.7 million veterans, or 25 percent of the total, had a service-connected disability as of August, 2019. When you look specifically at Gulf War-era II veterans – those who served from September 2001 to the present – that number goes up to 41 percent.
Given everything that veterans have done to serve our country, many assume that when a veteran has suffered a disability, receiving the benefits they're owed would be a given. Unfortunately, this is not always the case.
When a service-connected disability or illness prevents you from working or impacts your earning potential, you are entitled to compensation. At Fusco, Brandenstein & Rada, P.C., we have a dedicated legal team that will fight to protect your rights. We'll work efficiently to resolve your claim, so you start receiving payments to supplement your lost or reduced wages.
It has been our honor to represent disabled veterans for 30 years. We leverage our knowledge and experience to help veterans develop and present strong claims to the U.S. Department of Veterans Affairs. We know the breadth of evidence that needs to be included to ensure that you receive the disability compensation benefits, medical benefits, and other veteran benefits that are your due.
The types of Veteran Services we provide representation in are:
Initial Applications filed pro bono
Appeals and Representation to the VA and the Board of Veterans' Appeals
Federal Appeals to the Court of Appeals for Veterans' claims
Pension benefits for wartime veterans totally disabled on a non-service connected basis
Survivors pension of wartime veterans
Spousal, dependents and caregiver supplemental benefits
Survivor benefits for service connected deaths
Unemployability claims – Total disability due to individual unemployability
Reopening of claims based on SUE-clear and unmistakable error
Special monthly compensation
Aid and attendance and housebound allowance
Discharge upgrades
You can depend on us to provide the support and guidance you need throughout the entire process. Call Fusco, Brandenstein & Rada, P.C. at 516-496-0400 to schedule your free consultation with one of our New York Veteran Disability benefits attorneys.
The Basics of Veteran Disability Insurance
If you sustained an injury or illness during your active military service, you might qualify for benefits through the Veteran's Disability program. The U.S. Department of Veterans Affairs provides tax-free compensation for service-related disabilities. Whether you developed a new medical condition or exacerbated a preexisting condition, you may be eligible for benefits. You could apply for benefits even if you didn't sustain your disabling injury or illness during actual combat. Compensation is available to those who got hurt during training or performing tasks on the base.
Common disabilities covered through the Veteran's Disability program include:
Chronic conditions, such as arthritis, Lupus, bronchiectasis, and ulcers
Undiagnosed illnesses from serving in the Gulf War
Depression, anxiety, post-traumatic stress disorder (PTSD), and other psychiatric disabilities – whether or not they are combat-related
Heatstroke, frostbite, and other conditions related to exposure
Diabetes, ischemic heart disease, Parkinson's disease, prostate cancer, and other disabilities caused by exposure to Agent Orange and other herbicides
Kidney cancer, liver cancer, bladder cancer, and other disabilities caused by exposure to contaminated water at Camp LeJeune
The monetary compensation you receive will depend on your disability rating, which is a percentage between 0 and 100. This rating indicates the severity of a disability and how it affects someone's ability to return to work and complete routine tasks. The percentage will depend on the type of condition and how serious it is.
Proposed Changes in Veterans' Claims Evaluation
How to File a Veteran Disability Claim
There are various methods for filing a claim.
Online: You can file your claim online by answering a few basic questions, which will take you to the form you'll need to complete.
In-person: Print out an application and bring it to your local VA office.
Mail: Download and print Form 21-526EZ and mail it to the Department of Veterans Affairs Claims Intake Center at P.O. Box 4444, Janesville, WI 53547-4444
If you require assistance, you can call 516-496-0400, or hire an experienced New York Veteran Disability benefits attorney from Fusco, Brandenstein & Rada, P.C.
When you apply, you'll need to provide form DD-124, evidence of your disability and how it is related to your service. This evidence can be presented to the VA in the form of:
VA medical center records
Private medical records
Statements from friends, family, and other people who can confirm the nature of your disability and/or when and how the disability occurred
If you are unable to obtain the records yourself, you authorize the VA to request them on your behalf.
Benefit Payment Amounts You're Entitled To
The Veterans Administration will provide payments based on your disability rating. As of December 1, 2019, monthly benefits are as follows:
10% disability: $142.29 per month
20% disability: $281.27 per month
30% disability: $435.69 per month
40% disability: $627.61 per month
50% disability: $893.43 per month
60% disability: $1,131.68 per month
70% disability: $1,426.17 per month
80% disability: $1,657.80 per month
90% disability: $1,862.96 per month
100% disability: $3,106.04
You can receive higher benefit coverage if your disability rating is above 20%, and you have a spouse, children, or dependents. You might also qualify for VA Aid and Attendance or Housebound Benefits if you meet at least one of the following requirements:
Your illness keeps you in bed all the time or most of the day;
You need someone to help you with routine tasks, such as dressing and bathing;
You have limited eyesight of 5/200 or less even if you're wearing contacts or glasses, or your concentric contraction of the visual field is less than or equal to 5 degrees; or
Your disability contributed to a loss of mental or physical abilities that requires you to live in a nursing home.
Housebound Benefits: Your permanent disability keeps you at home most of the time.
You can apply for these benefits by filling out Form 21-2680 and mailing it to a VA Pension Management Center in New York.
What Should I Do if My Veteran Disability Claim is Denied?
There are three decision review options if you're not satisfied with the results of your Veteran Disability claim: Supplemental Claim, Higher-Level Review, or Board Appeal. When you hire a skilled veteran disability attorney, they will be by your side to advise you on the best of these three options and increase your chances of a successful outcome.
Supplemental Claim
If you choose this appeal process, you need to provide new and relevant evidence for the VA to review. New and relevant evidence is anything you hadn't previously submitted during the original claim and which is relevant to your disability. You can fill out Form 20-0995 and mail it to the Department of Veterans Affairs or bring it to your local VA office. If they deny your claim again, you can move forward with a Higher-Level Review or appeal to the Board of Veterans' Appeals.
Higher-Level Review
If your Supplemental Claim has been denied and you believe that the VA has made a mistake, you can request that a senior reviewer investigate the matter in the form of a Higher-Level Review. You will need to complete Form 20-0996 and list the issues you disagree with and want to be reviewed. You can also request a phone call with the reviewer to discuss why you believe denying the claim was a mistake. During this process, you're not allowed to submit new evidence. They will look over everything you originally submitted to determine if they agree with the decision or believe there was an error.
Board Appeal
You can appeal the supplemental claim decision or higher-level review decision by filling out Form 10182 and choosing between one of the options below. A Veterans Law Judge at the Board of Veterans' Appeals in Washington, D.C. will review your case and make a final decision.
Request a direct review: The Judge will look over all the evidence you previously submitted to determine whether you should receive benefits. If you choose this option, you can't submit new evidence.
Submit more evidence: You're allowed to send the Judge additional relevant evidence to review.
Request a hearing: You can request a hearing with the Judge and decide if there's new evidence you would like to present. Hearings are available in person, through videoconference at a VA office, or by virtual hearing from your home.
If your Veteran disability claim is denied, Fusco, Brandenstein & Rada, P.C. can help you at any point in the appeal process.
Benefits Available to Surviving Family Members of Deceased Veterans
If you're the spouse, dependent child, or dependent parent of a veteran who suffered a fatal disability, you might be eligible for benefit payments. Your loved one must have died:
During inactive duty training or active duty;
Due to a disability associated with military service; or
While receiving total disability benefits for a minimum of ten years before passing away, for at least one year before death as a former POW, or since being discharged and at least five years before death.
Available benefits include:
Costs associated with burial
Healthcare
Education program refund
Civil service preference
Education and training
Death pension
Life insurance proceeds
Home loan guarantee
Commissary and exchange privileges
Dependence and Indemnity Compensation (DIC)
Parents' DIC
To apply, complete Form 21-534EZ and mail it to the New York pension management center or submit it in person at a regional VA office.
What about Non-Service Connected Pension benefits?
Should I Hire a New York Veteran Disability Benefits Attorney?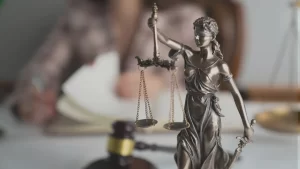 Yes. Proving that a current disability was caused by or aggravated by an in-service event can be a difficult proposition. Having an attorney familiar with the requirements of the Veterans Administration is crucial to establishing this "nexus" between your disability and your military service.
You might think it will be more cost-effective to ask a Veterans Service Officer for assistance when you're filing your claim. Although they're not allowed to charge a fee, they typically don't have as much time to dedicate to every claim. You won't receive the personalized one-on-one attention that Fusco, Brandenstein & Rada, P.C. can provide. Additionally, we have unlimited resources and an experienced legal team who knows the ins out outs of veteran disability claims.
When you hire us, we can handle every step of the process. We'll determine which benefit option is right for you, assist you with all the necessary forms, and obtain crucial evidence that proves you have a disabling medical condition. We can dedicate our time and attention to your case – you will always be a priority for us. We'll always make ourselves available to answer your questions and provide guidance from start to finish.
Contact a Veteran Disability Benefits Attorney in New York
If you're a veteran who suffered an injury or illness that has impacted your ability to work or affected your earning potential, schedule a free consultation with one of our New York Veteran Disability benefits attorneys from Fusco, Brandenstein & Rada, P.C.. We'll protect your rights and fight hard to recover the maximum benefit payments you deserve. You can depend on us to help you get through this traumatic experience and move forward with your life. Call us today at 516-496-0400.