New York Hospital Workplace Injury Lawyers
According to The Department of Labor Occupational Safety and Health Administration (OSHA), hospitals are one of the most hazardous places to work. There were 221,400 work-related injuries and illnesses recorded in 2019. This means for every 100 full-time employees, there were 5.5 work-related injuries and illnesses.
If you sustained a work-related injury while performing your duties in the hospital, you might be eligible for workers' compensation benefits. However, the claims and appeal processes can be time-consuming and overwhelming. The New York workers' compensation lawyers at Fusco, Brandenstein & Rada, P.C. can help ensure that your rights are protected. We'll work hard to get the benefits you need to cover your medical care and lost wages.
Our legal team has over 40 years of experience in workers' compensation. You'll be treated with compassion and care. We understand that your story is unique, and we listen. Call us today at 516-496-0400 or use our online contact form to set up a free consultation with one of our experienced New York workers' compensation attorneys.
Common Duties of Healthcare Workers
Hospital work is hazardous based on the common duties performed by workers. The range of work spans from nurses and doctors to lab and radiology technicians and janitorial staff. Much of the work requires repetitive actions on a daily basis.
For example, nurses can walk up to five miles during one 10-hour shift, and janitorial staff spends hours mopping floors and cleaning rooms. When work is performed using inappropriate equipment or poor body mechanics, it can lead to repetitive stress injuries. Some of the common duties and movements of healthcare workers include:
Bending
Walking
Scrubbing
Lifting up to 60 pounds
Transferring patients from bed to wheelchair
Overhead work
Computer work
Long hours sitting
Twisting and reaching repetitively
Stretching
Bathing patients
Carrying medical devices
Shifting patients in bed
Assist patients in necessary hygiene
Health Hazards Hospital Workers Face
Many of these activities can result in repetitive stress injuries to the knees, hips, elbows, and wrists. However, healthcare workers are also at risk for muscle and ligament sprains and strains, back injuries, puncture wounds, and cuts or lacerations.
The study conducted by OSHA found that the greatest number of injuries were triggered by overexertion. The same has been found by the Bureau of Labor Statistics, a group that records the rate of injury at private hospitals, state hospitals, and local government hospitals.
The greatest number of injuries across the board are from overexertion and body reaction. The second-highest number of injuries and illnesses in hospitals are from falls, slips, and trips, which accounts for 24 percent of injuries in private hospitals and local government hospitals. However, by far the greatest number of injuries in state government hospitals is from violence, accounting for 45.9 percent of all injuries.
In 2019, the American Journal of Managed Care called violence against healthcare workers a "rising epidemic." Each year there are 25,000 workplace assaults, and 75 percent of those happen in healthcare settings.
Nurses are at risk for work-related musculoskeletal disorders. These accounted for 44.1 percent of all injuries in nurses in 2016. Patients were the primary source, and the most affected part of the body was the back.
How to Stay Safe on the Job
Hospital workers face numerous challenges on the job. Staff members frequently come into contact with sharp objects. When these are not handled with care, they can cause serious injury. Risks from a "dirty injury," when a used needle or scalpel punctures your skin, can increase the potential for the transfer of blood-borne pathogens. Practicing safe techniques and disposing of sharp instruments properly is the first step to avoiding injury.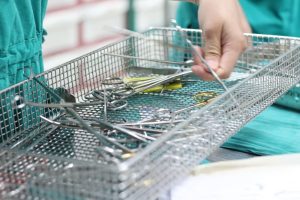 Hospital staff is trained in using proper hand hygiene, cleaning and decontaminating instruments, and using antiseptics and disinfectants between patients. These practices help reduce the spread of infection and illness between patients and to the healthcare staff. Take care to care for your skin since frequent washing can cause cracked skin, which allows pathogens access to your body.
Busy nurses may fall into poor habits with body mechanics throughout the day. This can result in muscle, ligament, and joint injuries from transferring or lifting immobile patients. Hospital staff should be well-trained in using assistive devices, such as electronic hoists, slings, and slip sheets.
It's important to attend employee training to ensure you're up to date with safety methods and techniques. When lifting patients, it's wise to wait until you have an extra pair of hands to assist with the heavy lifting. Learn to report hazards on the job as soon as possible. These can include broken equipment, spills, leaks, or potentially violent situations.
Seeking Workers' Comp Benefits for an On-the-Job Injury or Illness
In New York, workers' compensation insurance can help cover medical expenses and lost wages and offers survivor benefits if the employee dies from their work-related injury or illness. The first step to seeking compensation is to report the injury or illness to your employer. Hospitals have policies and procedures that cover reporting a work-related accident or illness. This includes filling out an incident report that is signed by the employee and employer. Be sure to take a copy of the form with you.
You must notify your employer of the incident within 30 days. However, it is best to do it before leaving your shift or as soon as possible. If you wait longer than 30 days, you can lose the right to any benefits. Next, you must file an employee claim with the workers' compensation board. This form is called a C-3 and must be filed within two years of the accident or within two years after you knew that the disease or condition was work-related.
The employer's workers' compensation insurance company will investigate the claim and will either deny it, pay it, or ask for more information. If the claim is denied, you have options for filing an appeal. This process can be overwhelming and complicated when you are recovering from an injury or illness.
Call Fusco, Brandenstein & Rada, P.C. for a free consultation. We'll discuss your case and advise you on your best move forward. When you hire us to represent your interests, you can be assured we will protect your rights.
The experienced and compassionate team at Fusco, Brandenstein & Rada, P.C. understands that pursuing workers' compensation benefits can be stressful. It is difficult to meet the necessary deadlines and gather the right information when you are recovering from an injury or illness. The financial struggles from being out of work and paying for medical expenses can be stressful. When you hire our legal team, we'll aggressively fight to protect your rights and ensure that you receive the benefits you deserve.
Remember that your first consultation with our team is free. Attorney fees in a workers' compensation case are set by the court and paid by the insurance company after we win an award for you. This means that you never pay for our services directly or out of your own pocket. Instead, the bill is paid by the insurance company only if we win your case.
Call Fusco, Brandenstein & Rada, P.C. today to schedule your free consultation and discover how you can depend on our experienced and resourceful legal team to support you through this process. Call 516-496-0400, or contact us online today.