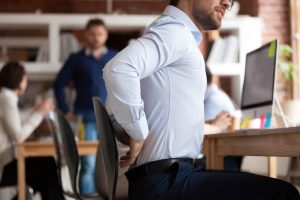 You may experience an injury, illness, or health condition that affects your ability to engage in gainful employment. One of the programs your Social Security tax dollars pay for is the Social Security Disability Insurance program. This is sometimes abbreviated as SSDI or SSD.
The program pays a monthly benefit to an individual who has become disabled before retirement age. It was also once known as "workers' disability." You must meet specific criteria to qualify for the SSDI program, including having worked a certain number of years at a job where you paid Social Security taxes.
To qualify for the program, you also must meet medical eligibility requirements. Individuals could qualify if they have a severe and long-term total disability that does not allow them to return to work for at least one year and can't perform gainful activity for at least one year.
The Social Security Administration (SSA) maintains a benefits eligibility screening tool where you may determine the program that best meets your needs. Another federal program for which you might qualify is the Supplemental Security Income (SSI) program, funded by general tax dollars. The disability standards are the same, but other eligibility requirements are different.
When you need Social Security disability benefits, call for help right away. The New York Social Security disability attorneys of Fusco, Brandenstein & Rada, P.C. could help you with every aspect of your claim. Call us today at 516-496-0400.
What Spinal Disorders Could Qualify for Social Security Disability?
A spinal disorder can develop over time or result from an acute injury. If this disorder leaves you unable to work, you might be eligible for SSDI benefits. There are common conditions that are typically covered by SSDI, including some spinal disorders.
However, other conditions could also make you eligible for benefits if you cannot work. Some of the spinal disorders that meet the eligibility requirements for monthly disability benefits include:
Spinal stenosis: This condition places pressure and compression on the nerves running through the spinal column. Stenosis occurs when one or more of the bony openings of the spinal column begins to narrow. Depending on the location and how much narrowing occurs, pressure on the nerves can cause numbness, tingling, pain, or weakness. Common causes of spinal stenosis include spinal arthritis, degenerative disc disease, and ligament thickening or buckling.
Ankylosing spondylitis: This is a type of arthritis that occurs in the lower back and may cause the vertebra in the spinal column to become fused and rigid. It causes long-term inflammation that can trigger severe and persistent back and hip pain and stiffness. It belongs to a group of spondyloarthropathies that can appear between ages 17 and 45.
Bulging or herniated disc: These are two different conditions that involve the discs. Discs are rubbery structures that help form the spinal canal and act as shock absorbers between the vertebrae. A bulging disc usually affects multiple discs and is a condition that develops over time. It can be related to other disc degenerative issues, such as lumbar stenosis. A herniated disc is an abrupt and acute injury that affects an individual nerve root.
Spinal Arachnoiditis: According to the National Institute of Neurological Disorders and Stroke, arachnoiditis is inflammation of one of the membranes surrounding and protecting the spinal cord's nerves. When this becomes inflamed from exposure to chemicals or an infection from bacteria or virus, it can result in direct compression of the spinal nerves. The disorder causes chronic pain and neurological deficits.
Nerve Root Disorders: Multiple nerve root disorders result from sudden or long-term pressure on the nerve root. This can be triggered by a herniated disc or osteoarthritis of the spine. Diagnosis is based on imaging tests and electrodiagnostic testing. Less commonly, a tumor can place pressure on a nerve root, or diabetes may damage the blood vessels that provide nutrients and oxygen to the nerve root. Other types of infections, such as Lyme disease, syphilis, and shingles can also cause a nerve root disorder.
Paralysis: Paralysis can result from spinal cord trauma that damages the nerve roots in the spinal cord. It can also be triggered by amyotrophic lateral sclerosis (ALS), autoimmune conditions such as Guillain-Barre syndrome, or defects in the circulatory system, such as arteriovenous malformations. There are varying degrees of paralysis that can result, including paraplegia that affects the lower extremities, quadriplegia that affects all four limbs, and partial paralysis in which you may experience muscular paralysis with sensation or a loss of sensation with muscular weakness.
Documenting Your Spinal Disorder Is Key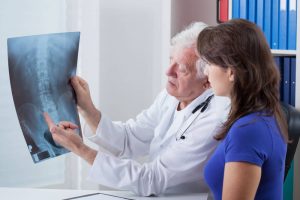 According to the Social Security Administration, a disability must meet specific eligibility requirements. This includes a medically determinable physical or mental impairment that results from an abnormality demonstrated by medically acceptable diagnostic techniques. In other words, documentation of your medical spinal disorder is critical to your SSDI application.
The Social Security Administration outlines specific spinal disorders in the SSA Blue Book. Even if your disorder is not listed in the blue book, you still may be eligible to receive benefits using a medical-vocational allowance.
To use this process, you must have a residual functional capacity (RFC) form completed by your primary care physician. This is a detailed documentation of what you can and cannot do that gives SSA a clear picture of how your condition affects your ability to function.
Your application should also include a detailed medical history with all the healthcare providers from which you have sought treatment. This detailed history should include the name and contact information of each provider as well as the dates of service.
All imaging and testing reports should also be included as they help to detail the severity of your spinal disorder and your functional ability. Other documentation that can prove helpful includes statements from coworkers or supervisors that explain how your ability to work has changed.
Applying for SSDI With a Spinal Disorder
There are several ways to file for your Social Security benefits. You may file online, by mail, or by going to one of the Social Security offices. During the COVID-19 pandemic, many of these offices were closed to the public, so it's important to check with your local office to see if they're handling in-person appointments.
SSA offers a disability starter kit for those interested in applying by themselves. It gives you a checklist of information to file your claim and the documents you need to prove your disability. However, if you retain Fusco, Brandenstein & Rada, P.C., our legal team will walk you through the process from start to finish. We will file the application and ensure the deadlines are met.
Your medical records have a significant impact on the outcome of your claim. We can supply your physicians with the proper forms to use to document your disability. Educating your healthcare providers may be one of the most important things to provide accurate details to support your claim.
Contact Fusco, Brandenstein & Rada, P.C. for Help with Your Application
You might be concerned that you cannot afford an attorney to help you through the application process. However, our legal team works on contingency, which means we don't get paid unless we get benefits for you. The SSA limits attorney's fees to 25% of your past-due benefits and a maximum of $6,000.
Since you only pay a fee when you win, you have nothing to lose and everything to gain by retaining experienced counsel from Fusco, Brandenstein & Rada, P.C. to represent your rights. Call our office today at 516-496-0400 for your free, confidential consultation and case evaluation.