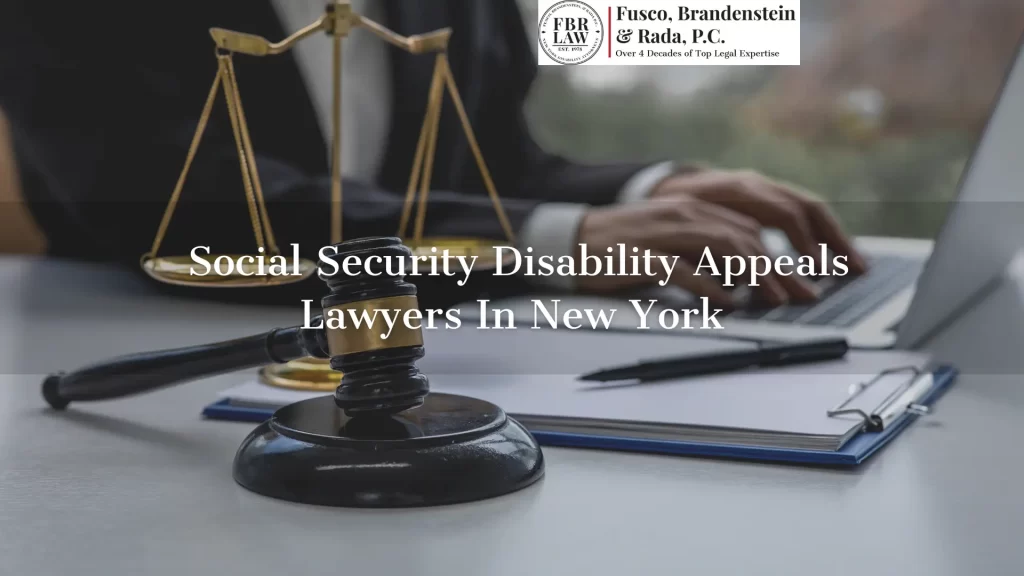 If your claim for Social Security Disability is denied, you need an experienced SSDI attorney to bring an appeal. You're already struggling to recover from or live with your disability. The appeals process can be frustrating and hard to navigate. But with the right Social Security Disability appeals lawyer on your side, you have options.
The New York Social Security appeals lawyers at Fusco, Brandenstein & Rada, P.C. handle cases like yours daily. Call us right away at 516-496-0400 to get started.
Why You Need A Lawyer For Your Social Security Disability Appeal
Having a skilled attorney on your side greatly increases your chances of having a successful claim. Having the right evidence is incredibly important at this stage. A good lawyer can ensure all your records are in order and that all evidence gets filed on time. Claims often get denied because of incomplete evidence or missed deadlines.
Your lawyer can speak with doctors on your behalf and prepare you for the questions you must answer at your hearing. A good SSDI attorney is very familiar with the entire appeals procedure. They can ensure you know what to expect at each stage and stay well-informed.
Why Hire Fusco, Brandenstein & Rada, P.C. To Handle Your Appeal?
Fusco, Brandenstein & Rada, P.C. has represented thousands of disabled and injured New Yorkers for over four decades. Our veteran team of advocates knows what it takes to ensure a successful claim. We work tirelessly to make sure you get the benefits you deserve. You can read about some of our clients' successes here. As our client, your well-being is important to us, and we are available 24/7 to answer any questions you have about your case.
Claim Denial And The Appeals Process
Many claims get denied on the initial evaluation, but it's possible to appeal this decision. It's important to go through the appeals process. A reviewer may deny a claim that was obviously filed and turned down before, and they may deny it for the same reason the first claim was unsuccessful.
Once you receive a decision denying your claim, you have 60 days from receiving the decision to request an appeal in writing. There are four levels in the appeals process:
Reconsideration: You request a complete review of your original claim. A new medical examiner will consider the evidence and make a decision. If your claim is denied again, you will receive an explanation similar to the one you received for your first denial. If you already receive benefits, your case may be subject to periodic reviews and either continued or terminated.
Administrative Law Judge (ALJ): If you wish to pursue your claim after reconsideration, you must request a hearing before an ALJ. You must submit this hearing request within 60 days of the denial. You may get requests to provide more evidence or new information to support your claim. Your attorney may gather experts to testify about your condition. It may be possible to attend the hearing remotely through video conference.
Appeals Council: If the ALJ hearing is unsuccessful, you may request a review by the Appeals Council. Your case may be reviewed if the council finds a flaw in the ALJ decision. Appeals Councils do not often overturn a decision without strong cause. This step is necessary, however, if you wish to take your case further.
Federal Court: Once you have exhausted all of your appeals, you may file a lawsuit in U.S. District Court. The judge will review your case for legal errors and factual problems. They may send your case to the Social Security Administration (SSA) if further consideration is necessary. But a federal lawsuit could take years to resolve and be more trouble than it's worth.
An experienced Social Security Disability appeals lawyer can guide you through these steps and advise you along the way. The success of your claim may rest on the evidence you can provide about your impairment, age, and ability to find other employment.
Injuries And Disabilities Covered By SSDI
According to the Social Security Administration, many disabilities in the U.S. are from job-related illnesses and injuries. However, even if your job is not responsible for your illness, you may qualify for benefits. Disability insurance protects workers who can no longer work due to life-altering conditions.
There are a few basic requirements that your condition must meet to qualify: You must be physically or mentally impaired. That impairment must prevent you from remaining gainfully employed or doing a substantial amount of work. However, you may qualify even if you can still do some work. Your impairment must be expected to last or have lasted at least a year. Some of the conditions that may qualify you for SSDI include:
Musculoskeletal disorders such as herniated disks
Neurological disorders such as cerebral palsy or epilepsy
Sensory problems like loss of speech, hearing, or vision;
Respiratory diseases like lung disease or asthma
Mental disorders like PTSD, schizophrenia, bipolar disorder, or depression
Autoimmune diseases like HIV or Lupus
Blood disorders such as anemia or sickle-cell disease
Cardiovascular conditions like high blood pressure, heart disease, or blood clots
Endocrine or glandular problems such as thyroid disorders or certain types of obesity
Certain cancers, such as sarcoma, lymphoma, leukemia, lung cancer, breast cancer, and cancers of the small or large intestine
The average for most SSDI payments is currently between $800 and $1800 per month. Each individual's monthly benefit is based on their earnings over the years. Your benefits could decrease if you draw benefits from other sources, like workers' compensation.
Are There Conditions that Automatically Qualify for Disability?
Frequently Asked Questions About Social Security Disability Insurance Appeals
We understand that right now, you probably have a lot of questions. The SSDI appeals process is not simple or easy to understand. We recommend directing any questions about your case to your attorney during your consultation. Here are a few general answers to questions you may have.
What If I Recover From My Illness Sooner Than Expected?
When applying for SSDI benefits, the expectation is that you will be unable to work for at least 12 months. If you recover sooner, you can keep the benefits you received as long as the original estimate was legitimate. The SSA will review your case, however, and your benefits could end if you have made a recovery.
How Long Does An Appeal Decision Take?
The answer to this question depends on the level of appeal and may require patience. Reconsideration may take between a few weeks and a few months, depending on the SSA's current caseload. A decision from an administrative law judge may take a year or more.
An Appeals Council decision usually takes at least a year, sometimes two. A federal case often lasts at least a year but may stretch to several years. Even the most experienced attorney has a limited ability to speed up the process. But having good representation can increase your chances of success considerably.
What Are My Chances Of Winning The Appeal?
Your chances may vary depending on the evidence, the level of appeal, and your representation by experienced counsel. According to a study by Martindale-NOLO, only 23 percent of applicants get approved at the initial application stage. For those who present evidence at a hearing, 46 percent win their cases. Having a good lawyer helps. Fifty percent of respondents with representation won their cases after the hearing. That's compared to 23 percent of those who represented themselves.
Can I Receive Benefits While Appealing A Termination?
If your case comes under a continuing disability review and your benefits end, you could still claim benefits while you wait for an appeal. You must sign and return Form SSA-795 within ten days of receiving the notice. The form should come with the denial of benefits notice.
Can A Medical Marijuana Prescription Cause A Problem For My Case?
New York has a limited medical marijuana program for some serious conditions. However, marijuana remains illegal at the federal level. SSDI is a program of the federal government. Possession of an illegal substance like marijuana could lead to a denial of benefits and arrest and prosecution.
Speak With A New York Social Security Disability Appeals Specialist Today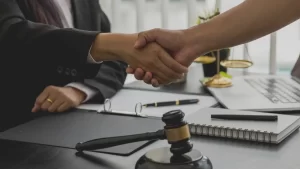 If you have a long-term disability or illness and got turned down for Social Security disability benefits, you need an advocate. An experienced Social Security Disability appeals lawyer in New York can guide you through the entire appeals process. Trying to recover while also worrying about your family's financial well-being is frustrating.
Call the SSDI experts at Fusco, Brandenstein & Rada, P.C. immediately at 516-496-0400 or fill out our contact form today to get started on your appeal.
Related Reading: