Labor Lines
---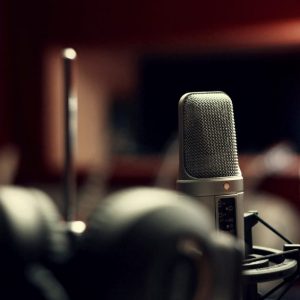 Currently we were airing on four stations. AM-970 "The Answer" WNYM in New York City, "My Country 96.1-FM" WJVC and "LI News Radio 103.9 FM, WRCN" in Suffolk, and the station we started at in March of 1999, WGBB AM-1240 in Freeport.
This decision was entirely mine as the the program had been demanding a considerable and increasing block of my time each week, leaving me with zero free time or vacation time and many late nights in the studio.
Labor Lines was a carefully edited pre-recorded program which was tailored to the different time demands of each station. We had a 5 PM Friday "drop dead" deadline to forward each show to its respective station. The deadline was getting impossible to meet. When we started Labor-Lines, no one else was doing a labor program on the commercial airwaves. In time, seeing our success, more labor shows came on the air. While this was good it also made it more difficult to book guests who were getting calls from many shows. Additionally the cost of airing the program was increasing and it was becoming more difficult to get any financial support for the program.
I want to thank the owners/management of the stations that aired the program over the years: Josephine Chen, owner and Jeff Lo Manager of WGBB and my Engineer Brian Greaves, and Ass't Mgr Trevor; Salem Broadcasting in NYC owner of AM 970 The Answer, and Phil Boyce, Nat'l Program Director, Jerry Crowley, General and Sales Manager, Kevin McBride Account Executive, Marc Deboer, operations manager and the multi-talented Matt Borzi, production manager and announcer; finally my 'family" at JVC Broadcasting: Owner John Caracciolo has been a friend from the start. So too has his partner Vic Canales (Vic Latino), and LI News PD Matt Goldapper. The folks in the production room especially Chris have been extremely helpful.
In the past, Labor-Lines aired on WLIE 540 AM (Deer Park) for several years, and want to thank owners Stu and Stan Henry, for their friendship as well as the staff at the time including Amanda Clark, and our Board Op, Jason Bonewald. Before airing our New York City show on AM-970 we were on Heritage Station WWRL 1600 AM for several years and want to thank General Manager Adrien Gaines, Operations Manager Rene Bishop and Sales Manager Mike Hill for their help. I apologize to the many people whose names I may have omitted- and there were many folks at all these stations who have been more than helpful to us.
I also want to acknowledge my inner circle starting with my wife and Executive Producer, Sara Fusco who conceived of the show and conspired with then WGBB Manager Joey Alcarese to persuade me to go on the air with a program for and about labor. At WGBB we were aided by Tom Ross, Paul Boritz and Dennis Curry. In our own studio in Woodbury where we recorded many programs Rob Jeantet former morning host on Country 94.3 WMJC, served as our first associate producer, announcer and editor for several years. We have had tremendous help from Russ Debello (a/k/a Famous Amos) and his better half Anita Bonita. Russ and Anita have not only worked as major market air talents, but are technical wizards, Russ tuned my studio and tweaked my Board on several occasions and was available by phone- at any time – to tweak over the phone. Bob Perry a well known DJ at WHLI is also a technical wiz and operates a computer consulting firm and has been there for me to save my butt with very little notice. And I would be nowhere with the continuing help from Long Island Radio veteran Tom Pantaleo, perhaps better known as Rocky on WBAB, LI's leading rock station. Tom's long career includes every of radio station and every format. He has worked in recording studios and done voices overs including all the commercials on Labor Lines which he voiced and recorded for me. He's given me countless hours of valuable advice and information that only a veteran could give. Added to all those talents, Tom is an incredible drummer and singer whom I have enjoyed playing music with for over a decade in the Roadhouse Band. He is an amazing guy and all of his help over the years has been appreciated more than I can adequately express.
When I first started the show, then President of the Long Island Federation of Labor, Jack Caffey took me under his wingsw and taught me much about politics and labor. He helped me book the guests who would not return my calls, but eagerly picked up the phone for him. He pressed union officials and elected officials to appear on the phone and talked us up whenever he could. His successor John R. Durso has also been a great supporter of the program. His Union Local 338 has been, other than my law firm, the key sponsor of the program for many years. John has remained a big booster of the program and along with LI Fed Executive Director Roger Clayman, were the last in studio guests on the program. Vincent Alvarez, President of the NYC Central Labor Council, Peter Meringolo of the NYS Public Employee Conference, and Richard Steier, Editor of the Chief-Leader, have been valuable resources and interesting regular guests as well. The late Eddie Panerello, Assistant to the Chief of the NYS AFL-CIO also helped me out as a consultant for several years. Dr, Tom Germano, former Labor Leader, Arbitrator, Mediator and Professor of Labor Studies at Cornell and later founder of the Labor Management Center served as a fill for me on numerous occasions, and remained a close friend for all these years as has Irv Miljoner Area Director for the US Dept of Labor's Wage and Hours Division, who appeared regularly. Irv and I have served together on the boards of seveal Charitable organizations and Labor groups. Assisting us in our own studio over the years was Yuan Chen, a Chinese Student who studied media at Stony Brook and assisted me with many technical tasks like podcasting and digital recording and editing. She was followed by Jodi Goldberg, a delightful and talented graduate from NY Tech who handled field reporting and of course, like everyone else – audio editing, Jodi is now a top on air reporter for FOX 5 in NYC. She was followed Conor Teehan (now a major media account excutive) and then by Christiaan Perez, who was recommended by Charlene Obernauer, then Executive Director of Long Island Jobs with Justice. Chris spoke English and Spanish. He had hosted radio on WHRU Hofstra's Radio Station. He became our first full time assistant whose tasks included producing the show, researching guests and topics, scheduling recording session both on Long Island and in WNYM (and WWRL earlier). Issuing our blasts and writing our newsletter, maintaining our mail list and setting up podcasts on I tunes and our own website. He revamped our website, and most importantly also produced a Spanish Language offset of Labor-Lines, called "Communidad y Trabajadores Unidos" (Community and Workers United). Chris was hired by Latino Justice and recommended our current producer/ editor/ digital content editor and also a Hofstra Alumna, Megan Teehan. We've also had a good deal of help from Dan Cajicas who hosts Clinicians Corner on AM-970 and introduced to the management, when we left WWRL two years ago. We also thank Pennsylvania Labor Broadcaster Rick Smith for Providing us with Labor History segments.
All of the above was made possible for all these years by two of the greatest law partners and friends an attorney could have. My partners at Fusco, Brandenstein & Rada, P.C. – Richard Brandenstein, whom I have known since tour first day at Brooklyn Law School and Milan Rada. These guys have put up with my commandeering valuable office space to make an in-house, professional level radio recording studio, and they've financed the program for all these years. We never would have lasted 16+ years on the radio, without Dick and Milan's quiet background involvement and encouragement. I have been truly blessed to have them as partners. I have also been blessed in my choice of a spouse, Sara Macy Fusco, who has immersed herself in the radio program and spent many hours interacting with Labor Union Members, and helping me line up guests, attend rallies and Labor events and set up tables at conferences to advertise our show and our law firm. All these people and many I've not named, over the years, made it possible for me to serve as labor's radio voice. It was a dream come true for a boy who grew up with a transistor radio under his pillow at night, listening to people like Barry Gray, Long John Nebel, and so many radio talksters. But the time has come to hang up the headphones and put away the microphone so I can spend more time with law partners and associates, more time with my musician friends and more time with my family. Without the weekly deadline over my head, I may actually be able to take my beautiful wife Sara on an extended vacation to celebrate our 20th anniversary which happened on December 23rd of this year.
Let me thank all of you who listened to Labor-Lines or lent support over the years. I'm still practicing law and playing music so I'll see you around.
One last thought – whenever possible – always try to Buy AMERICAN, the job you save may be your own. God bless the labor movement and God bless America. A happy and hopefully more peaceful New Year to all!
————————————-
Labor-Lines Podcasts will still be available on I-Tunes for several months and on the Labor-Lines website.
Victor Fusco