How to Choose the Right Prosthetic for You
---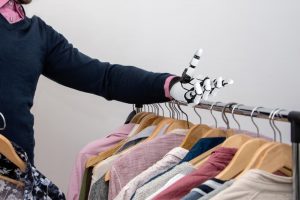 If you were involved in a significant accident, you may have lost a limb. Losing an arm or a leg is a traumatic experience and requires months of rehabilitation. Medical advancements have developed prosthetic legs, or prostheses, which can help people be more functional every day. Some prostheses even mimic the appearance of a real arm or leg.
The global market for prosthetics and orthotics was $6.11 billion in 2020 with an expected growth of 4.2 percent by 2028. The rising number of road accidents, sports injuries, and diabetes-related amputations are in part responsible for this growth. In the U.S., there are an estimated 1.9 million people who are living with an amputation, and that number is expected to double by 2050. However, less than half receive a prescription for a prosthetic device.
If you lost a limb in an accident that was someone else's fault, you may be entitled to compensation that will help cover your medical costs, including a prosthetic. Here are some tips on how to choose the right prosthetic for you.
Should You Choose Form or Function?
Everyone has different priorities. When you work with an experienced prosthetist, the limb should be pain-free and offer you significant function in your daily activities. However, some people love to exercise and just can't live without it. Other people simply want a limb that looks and acts like a natural limb as much as possible and allows them to get about in their daily work.
A prosthetic that looks good with high heels and dress shoes will not function in the same way that an athlete requires in order to play baseball or run sprints. The prosthetic you choose must fit your priorities. For some, both are important, and you may wish to have both types of prosthetics.
Consider How You Want to Use the Prosthetic
The prosthetic you choose will depend in part on the level of the amputation. For example, a leg amputated above the knee will require different functionality and balance properties than a prosthetic build for an amputation below the knee. The same is true for a prosthetic built for an above the elbow or below the elbow amputation.
It's important to remember that a prosthetic is a tool. The tool you choose depends on your personal lifestyle choices and aspirations. There are multiple choices because there is no single device that is best for every person. For example, although you may enjoy athletic activities, not every athletic endeavor has the same requirements. The prosthetic you choose for recreational skiing or biking may be different than the one you use for baseball or running.
Work with a Trusted Prosthetist
It is important to work with a trusted and experienced prosthetist. When you choose a doctor or a dentist, you likely do some investigation by checking for recommendations, reading reviews, and asking friends and relatives for their opinions. The same should be true when you look for a custom prosthesis.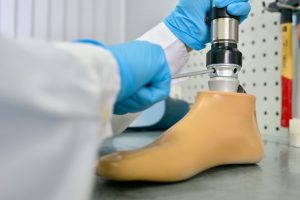 You will develop a long-term relationship with your prosthetist. This will be the person and the company that you have the most interaction with after you're discharged from the hospital. Throughout the preparation process, there will be a lot to consider.
When you choose the right company, they can help you navigate the questions and concerns you may have as well as help you get back to your normal lifestyle. Here are some tips to help you look for the company and professional that's best for you.
Check the company's and prosthetist's credentials.
Find an office where the location is the most convenient as you'll be making several trips.
Get feedback and reviews from support groups, your physician's office, and online groups.
Call the office and speak with the staff to get a sense of how they operate and what their customer service is like.
Get your questions together and meet with the prosthetist to learn their expectations and determine whether you feel confident with them.
Take someone with you to get a second opinion about the company and the professional.
Ask about how they integrate modern technology to improve outcomes and what may be available for your specific needs.
Prosthetic Limb Technology Is Evolving
Since most people are of varying sizes and shapes and have different goals for their prosthetics, it is important to remember that not one-size-fits-all. Your prosthetist will address the prosthetic leg from a variety of angles. A leg may or may not have functional knee and ankle joints, depending on the location of the amputation and how you want to use it.
The socket is the area where the prosthetic and your body connect. It is a precise mold of the residual limb that helps the prosthetic attach to your body. Each prosthetic will also have a suspension system that helps the prosthesis stay attached. This may include a sleeve suction, distal locking, or vacuum suspension. Each of these options has its own pros and cons.
Many years ago, prosthetics had little articulation at the knee or ankle, which made them very difficult to use. In the 1990s, the first microprocessor became available to control the prosthetic knee. Gradual improvements have been made that allow a prosthesis to make movements similar to the natural limb and respond to your natural walking pattern.
Contact Us
If you were injured in an accident and had a limb amputated as a result, you may be entitled to compensation that will help pay your medical bills. Call Fusco, Brandenstein & Rada, P.C. today at 516-496-0400 for a confidential consultation. We'll advise you on your next best steps to help you recover benefits for your injuries.