Top Ways to Prove Negligence Caused Your Construction Accident
---
Being injured in a construction accident can be life-altering. You deserve to be compensated for your injuries. But before you can obtain compensation, you'll have to prove that the negligent actions of another party were the cause of your injuries.
If you have questions regarding your case, don't hesitate to reach out to us today.
What Is Negligence?
Negligence in legal terms is not much different than how the term is used in everyday life. When someone acts without the care that they should, they are being negligent. And when someone injures you because they were negligent, you can take legal action against them to obtain compensation for your injuries.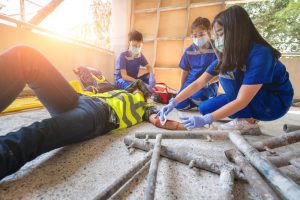 How to Prove Negligence
Negligence must be proven in order for you to be compensated for your injuries. Everyone has a duty not to harm someone else. For example, motorists have a duty to be cautious and to operate their vehicles safely. Corporations that make products for consumers have a duty to make sure their products are safe for use. Construction companies have a duty to ensure that others are safe when they're near or on their work sites.
When you file a personal injury claim or lawsuit, you have to provide evidence that the person you believe was responsible for your injuries had a duty to prevent you from being harmed. You have to prove that they neglected their duty and, because of that, their actions led to you being injured and suffering financial and emotional/mental losses.
Proving that Negligence Caused Your Construction Accident
When you're trying to determine how to prove that negligence led to your construction accident injuries, consider the question: how did the accident happen? Did a piece of machinery fall on you? Did you fall while you were at a construction site? Were you hit with something while you were near a construction site? Were you electrocuted? Did you get stuck in between pieces of machinery? The answer to these questions will help guide you towards determining who was negligent. The cause of your injuries should illuminate who was responsible for preventing the event from happening.
What You Need to Prove Your Construction Accident Injuries
You can't obtain compensation for your injuries without providing evidence of those injuries either to an insurance company (for your personal injury claim) or in court (for your personal injury lawsuit).
The strongest proof of your injuries is your medical records. After being seriously injured, it may seem obvious for you to seek medical attention, especially if your injuries are severe. Getting medical attention for your injuries benefits your health and well-being, primarily.
It's also crucial for your claim or case. When you're treated for your injuries, the medical professionals document everything: your injuries, how they occurred, the severity of your injuries, diagnoses, and treatment and procedures that were conducted. All these details are documented in your medical record.
Your medical record serves as evidence of the fact that you sustained injuries and supports the validity and value of your claim or case. The value of your claim is proven by the costs associated with the treatment you received as described in your medical record. Also, the emotional and mental suffering you've had to deal with because of the extent and severity of your injuries is supported by your medical record. Contact us today, we can help.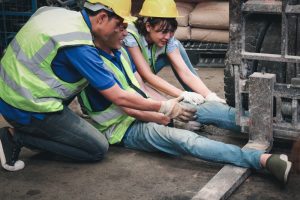 Who Is Liable for the Construction Accident?
Depending on how you were injured, a number of parties could be liable for your losses. If you were injured due to machinery that malfunctioned, for example, the manufacturer of that machinery could be liable for your injuries. If you were injured while on the construction site due to a danger on the site, the contractor/subcontractor or property owner(s) could be held liable for your harm. Other parties could be responsible for your injuries, as well.
Contact Fusco, Brandenstein & Rada, P.C. for Help with Your Case
If you've suffered severe injuries in a construction accident and someone else was to blame, you need to hire an attorney right away. You don't want to miss out on receiving the compensation that you're owed for your injuries.
At Fusco, Brandenstein & Rada, P.C., our dedicated New York negligence and accident attorneys are skilled at representing clients in their claims and lawsuits. Our clients have obtained significant compensation for their losses, both financial and emotional. We fight tirelessly to provide top-notch legal representation to injured parties throughout New York.
To schedule a free consultation so we can discuss your options, contact us now at 516-496-0400.