How Is Social Security Disability Calculated in New York?
---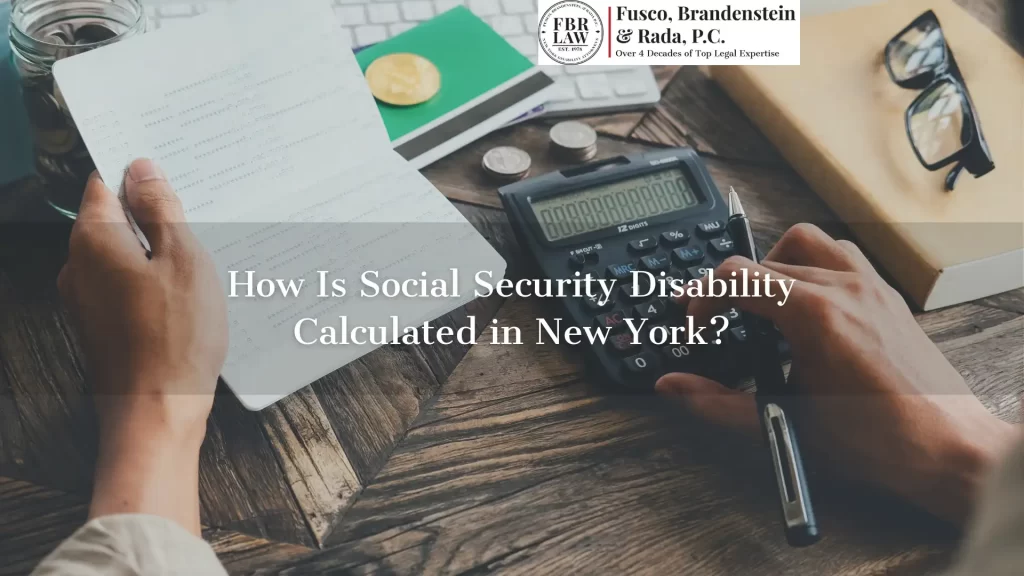 Life's unforeseen challenges lead many New Yorkers to seek Social Security disability benefits. But even after successfully applying for benefits, calculating how much you will receive involves complex, arcane formulas. It's no surprise many people wonder how the Social Security Administration calculates disability benefits.
At Fusco, Brandenstein & Rada, P.C., our social security disability lawyers in New York believe everyone has the right to clear explanations of legal issues. This includes matters related to disability law, and we want to shed some light on this complex, vital topic. This guide explains how Social Security disability is calculated in New York so you can find the answers you need.
How New York Calculates Social Security Disability Benefits
While the state government determines who qualifies for Social Security disability benefits and administers many aspects of the program, the formula for calculating benefits comes from the federal Social Security Administration (SSA). Because Social Security Disability Insurance (SSDI) benefits are for disabled workers, the SSA's formula for calculating benefits is primarily based on your lifetime earnings. The SSA looks at up to 35 years of your lifetime earnings and uses your highest-earning years to calculate your benefits. The SSA's formula also includes "bend points" based on the national average wage index.
The bottom line is that figuring out how much you will receive in Social Security disability benefits is challenging. While the SSA has online benefit calculators you can use, we recommend seeking advice from an experienced disability lawyer.
How to Check Your SSDI Payment Amount
If you want to estimate how much your SSDI benefit might be or verify the amount you are receiving, the SSA can help. By creating a My Social Security account online, you can get estimates of your potential benefits, apply for benefits, see if your spouse or other family members qualify, and more. You can also ask for help from a knowledgeable disability attorney.
What Is the Average SSDI Payment in New York?
Because the formula for calculating SSDI benefits is so complex, estimating average benefits is challenging. The SSA says that in one recent year, disabled workers nationwide received an average of $1,234 per month. The average in New York is likely around that amount, but it's difficult to say without more SSA data.
Will My SSDI Payments Ever Change?
Yes, your SSDI benefits can increase or decrease in certain circumstances. Some factors that might cause your benefits to change include:
Changes in Health or Disability Status:
SSDI benefits are for disabled workers who meet the qualifications. They are only available for workers whose disability is expected to be fatal, last more than one year, or has already lasted for a year. If your health improves or your disability ends, your benefits may cease.
Returning to Work:
If you decide to return to work while receiving SSDI benefits, the SSA offers "work incentives" that allow you to keep your benefits while testing your ability to work. However, earning more than a certain monthly amount could impact your benefits after a trial work period. Basically, if you're making enough money through employment, the SSA may adjust or terminate your benefits.
Cost-of-Living Adjustments (COLA):
The SSA occasionally adjusts benefits based on inflation and the increased cost of living.
Changes in Legal Status:
Events such as marriage, divorce, or the death of a spouse can impact your SSDI benefits. For instance, your benefits might change if you were receiving SSDI benefits based on a spouse's (or ex-spouse's) work record and they die.
Reaching Retirement Age:
Once you reach full retirement age, your SSDI benefits will automatically transition to Social Security retirement benefits. This change does not typically reduce the amount you receive, but the source of the benefits shifts from disability to retirement.
Workers' Compensation or Other Public Disability Benefits:
Receiving workers' compensation or other public disability benefits can reduce your SSDI benefits. This is particularly pertinent if the combined sum of your SSDI and other public benefits exceeds 80 percent of your average earnings before your disability.
Benefits for Family Members:
If members of your family receive benefits based on your disability record, there's a limit to the total amount that can be paid to a family. If the total exceeds this family limit, the SSA may reduce each person's benefit proportionately.
Types of Income That May Lower Your SSDI Benefit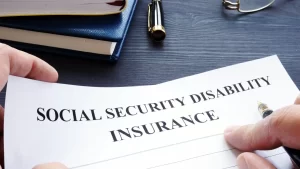 Not all forms of income are the same in the SSA's eyes. Certain types of income can lead to a reduction in your SSDI benefits, such as:
State disability benefits
Federal disability benefits (excluding VA benefits)
Public disability benefits
Local government pension
State government pension
Unemployment benefits
Severance pay
Sick pay from an employer
Income from certain types of rental properties
Can You Receive Retroactive Disability Payments in New York?
Yes, it is possible to receive retroactive disability payments in New York. While disabled individuals usually receive monthly benefits if they can't work for a year or longer, there is typically a five-month waiting period. Hence, the SSA typically makes their first benefit payment during the sixth full month after the disability starts. However, you can claim retroactive benefits if you show you had a disability for up to 12 months before applying.
Can You Get SSDI and SSI at the Same Time?
You can receive SSDI and Supplemental Security Income (SSI) benefits at the same time. SSDI benefits are based on your work history, while SSI benefits are based on financial need. Therefore, it's possible (though difficult) to qualify for both benefits simultaneously. A knowledgeable disability lawyer can assist you with applying for both benefits.
Still Have Questions? We Can Help
It's crucial to have help when you apply for Social Security disability benefits. The slightest mistake on your application could derail your application or cause months of delays. But with our  disability attorneys in New York at your side, you can claim the benefits you need to regain financial stability. Call Fusco, Brandenstein & Rada, P.C. today at 516-496-0400 for a free consultation, or you can complete our contact form.
Related Reading: