What to Expect at a Disability Medical Exam
---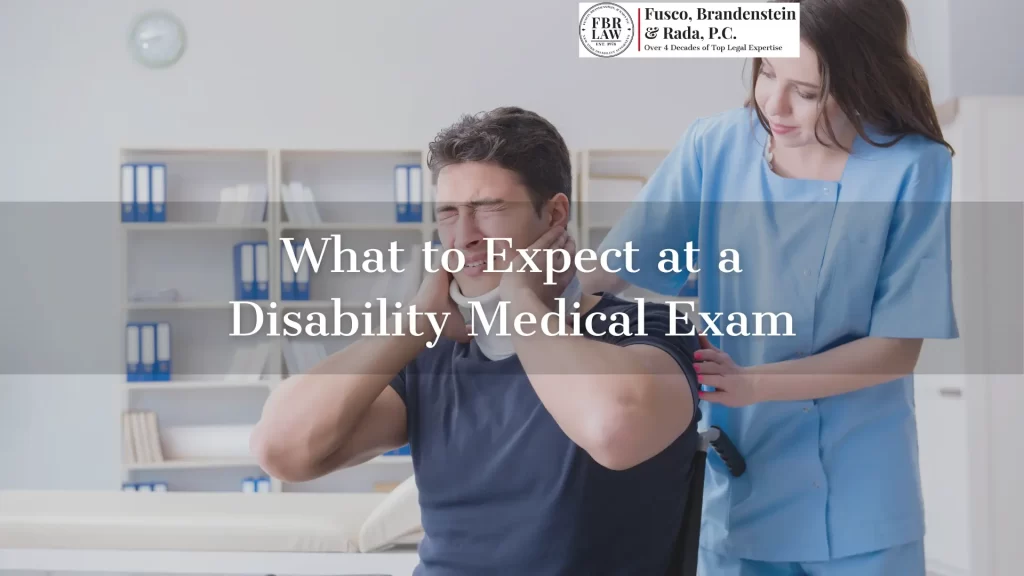 If you're preparing for a Social Security disability medical exam, you may feel a little anxious, possibly overwhelmed, and maybe even a bit uncertain about what's ahead. We get it; preparing for a disability medical exam is no small task, especially when your well-being hangs in the balance. Walking into an unfamiliar situation can be daunting, and it's completely normal to have questions. At Fusco, Brandenstein & Rada, P.C., our New York Social Security disability lawyers can help demystify this process for you. In this blog post, we'll walk you through the ins and outs of what to expect at a disability medical exam. We hope that by the end of this read, you'll feel a little less apprehensive and more informed about the process ahead.
What's Involved in a Disability Medical Exam?
Every person's disability medical exam depends on their specific disability and personal health circumstances. However, knowing the general process of the exam can help take away some of the mystery and ease your mind.
First off, the length of your exam depends on the nature and severity of your claimed disability. Some exams are brief, lasting only about 20 minutes, while others require more time. But no matter the length, each exam focuses on understanding and documenting your condition.
Before the physical examination begins, the medical consultant usually reviews your medical history and asks about your symptoms, your daily activities, and the limitations you experience due to your disability. They may ask you about your work history and how your disability has impacted your ability to work. This conversation is a crucial part of the process, so be honest and thorough in your responses.
The physical examination will depend on the nature of your disability. For example, if you're experiencing back issues, the doctor might assess your range of motion, ask about pain levels, and observe your ability to walk or bend. If you have a mental health condition, the doctor or consultant might conduct a psychological evaluation instead, in which case they'll assess your memory, mood, and mental quickness.
Can I Choose My Doctor for a Disability Exam?
The SSA generally assigns a medical consultant to perform your disability medical exam. This doctor or medical professional has a contract with the SSA to provide a thorough, objective analysis of your medical condition in relation to your disability claim.
That said, your personal doctor still plays a crucial role in this process. They provide your ongoing care, and their medical records, notes, and opinions about your disability are highly valuable in your disability claim. Having these records up to date and readily available for the SSA to review is essential.
General Tips for Your Disability Medical Exam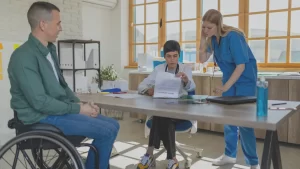 With a bit of preparation, you can confidently navigate your disability medical exam. Here are some general tips to help you prepare:
Be Honest and Thorough: This exam is all about understanding the extent of your disability. Be open about your symptoms and how they affect your day-to-day life. Don't downplay your condition or symptoms out of fear of sounding overly dramatic. Conversely, avoid exaggerating your symptoms. The key is to provide a realistic depiction of your life with your disability.
Prepare Your Medical History: The medical consultant will want to know about your medical history. This includes previous diagnoses, treatments, medications, hospitalizations, and how your condition has progressed over time. It's helpful to think about these things in advance so you can provide accurate and thorough information.
Bring a List of Medications: Bring a current list of all medications you're taking, including their dosages and any side effects you experience. This will give the examiner a complete picture of your treatment plan and how it affects you.
Consider a Daily Activities Diary: Keeping a diary of your daily activities can provide valuable insights into how your disability affects you on a regular basis. This can include tasks you struggle with, activities you've given up due to your condition, and any pain or discomfort you experience.
Dress Comfortably and Arrive Early: You want to be as comfortable as possible during your exam. Dress in clothes that are easy to move around in, and consider arriving a bit early to your appointment to reduce any last-minute stress.
Ask Questions: Don't hesitate to ask if you're unsure about anything during your exam. This is your exam, and you have a right to understand what's happening at every stage.
What If My Disability Claim Is Denied After an Exam?
If the SSA denies your disability claim after an exam, don't be discouraged. You can file an appeal, which gives the SSA another chance to review your claim. During this period, you can collect more medical evidence to support your case, possibly securing additional records, more detailed reports, or even personal testimonials about your condition. It's important to have an understanding of what to expect at a disability medical exam to best prepare for it. Additionally, consider consulting a disability lawyer who understands the nuances of disability law.
Our team of expert lawyers can help you understand what to expect and prep for your disability medical exam, as well as assist with any appeals if the SSA denies your claim. Call 516-496-0400 or reach out online for a free consultation.
Related Reading: